29 March 2005 - ABC's New Commandment: Honor Thy 'Housewives'
Source : Washington Post

On Easter, ABC forsook "The Ten Commandments" in favor of the hedonistic women of Wisteria Lane.

Grievously, this move paid off in spades.

"Desperate Housewives" drew 24 million viewers on Easter, far more than past audiences for "The Ten Commandments." (ABC via Reuters)

"Desperate Housewives," which had been off the air for an interminable five weeks, returned in a blaze of glory that night, as more than 24 million faithful looked on.

In fact, more than twice as many viewers chose to spend the night with "Housewives" as with CBS's traditional Easter Sunday treacly flick -- this year, the weepy "Suzanne's Diary for Nicholas."

Sadly, "The Ten Commandments," an ABC Palm Sunday/Easter Sunday staple, hasn't copped 24 million viewers in at least 13 years and possibly longer. ABC's records on the number of viewers watching the broadcast networks go back only to 1992, when the Cecil B. De Mille flick drew 22.6 million viewers.

Last year, "T10C" averaged 10.2 million on Palm Sunday, a terrific number for a movie made 49 years ago -- which, coincidentally, is the age of the oldest viewers that ABC targets. Maybe that's why the network dissed the flick this year.

After more than two decades of airing the classic during the Easter season, with an occasional year off to "rest," ABC this year ignominiously bumped it to Saturday, March 19, where the film suffered its smallest TV audience on record -- fewer than 7 million viewers.

But, instead of being visited by a plague of locusts for this blasphemy, ABC met with gigantic ratings on Easter night.

Among the 18- to 49-year-olds ABC goes for, "Desperate Housewives" beat the combined network competition -- that would be CBS, NBC, Fox and WB. In fact, "Desperate Housewives" was the most watched program in the country on Easter.

Following "Housewives," ABC debuted its chicks-as-hot-interns drama, "Grey's Anatomy," and again -- no locusts.

Instead, the unveiling of the hot-docs-in-training series trumped its closest competitor, NBC's hot-chick-medical-examiner drama, "Crossing Jordan," to the tune of more than 5 million viewers.

Among those viewers in the 18-to-number-of-years-ago-"Ten-Commandments"-was-made category, "Grey's Anatomy" is the second-best drama series debut on any network this season -- behind only the fall launch of "Desperate Housewives."
29 March 2005 - Fans don't jilt 'Housewives'
Source : New York Daily News

Absence may indeed make the heart grow fonder when it comes to ABC's red-hot drama "Desperate Housewives."

After weeks, five to be exact, without a new episode of "Desperate Housewives," there had been some fears that viewers might go elsewhere than ABC on Sunday night at 9.

But they didn't.

An estimated 24 million viewers tuned in to ABC Sunday night for a new episode of the offbeat drama about a group of suburban women in various stages of marriage and divorce.

Audience levels for Sunday's new edition were well in line with the show's average this season, including fresh episodes and reruns.

The audience for "Desperate Housewives" doubled that of its nearest competitor, CBS, which averaged 11.8 million for the 9 o'clock hour.

The decision by ABC programmers to hold off new episodes for so long - the night was pre-empted in recent weeks for the Academy Awards and an Oprah Winfrey-produced movie - had some observers wondering whether audiences would be patient enough to wait for new shows.

Indeed, when Daily News critic David Bianculli complained about the delay, many readers wrote that they agreed. Some said they wouldn't stick around for ABC to bring back the program.

Yesterday, messages left on fan Web sites appeared decidedly mixed.

"Loved it!," wrote a fan at ABC's site. "This episode was a great episode to get me going in 'DH' mode again!"

Wrote another: "I've waited for a month to see a new episode of 'Desperate Housewives' and I was sooo disappointed. ... The plot lines are getting predictable now."

The lag between fresh episodes left some viewers wondering whether they missed a show in between. Other viewers spent time trying to figure out the plots.

Still, "Desperate Housewives" remains the top-rated new show of the season.

Sunday's episode, which had Bree Van De Camp (Marcia Cross) confront her estranged husband over the use of a hooker, and had Lynette Scavo (Felicity Huffman) see her twins accused of setting off a lice epidemic at school, also served as a springboard to launch the new medical drama "Grey's Anatomy."

The show, which is set in a Seattle hospital and follows a group of medical interns, aired in the "Boston Legal" slot after "Desperate Housewives."

"Grey's Anatomy" averaged 16.3 million viewers and had the best audience retention yet in the time period after "Desperate Housewives."

By comparison, new and rerun episodes of "Boston Legal" have averaged 11.1 million viewers in the 10 p.m. time period this season.

ABC has shelved "Boston Legal" for four weeks in order to give viewers a taste of "Grey's Anatomy."

ABC officials have yet to say what happens to "Grey's Anatomy" after the four-week tryout, although 12 episodes have been produced.
28 March 2005 - Sex, Lice, and Videotape
Source : Entertainment Weekly

If you can't do the time, don't do the crime.

Fortunately, the residents of Wisteria Lane have no problem with that slogan. After endless weeks of reruns and preemptions, our beloved Desperate Housewives characters were finally back in our living rooms, behaving really, really badly — and getting (in a lot of cases) their delicious comeuppances. In less than one hour, this week's episode packed in acts of theft, breaking and entering, bribery, prostitution, driving under the influence, and inappropriate acquisition of medical records — pretty much every crime short of boiling the Easter bunny.

Not that Glenn Close in Fatal Attraction has anything on Bree Van De Kamp. Bree's deliciously warped sense of right and wrong — coupled with a ferocious need to protect her family's good name — led to the two best moments in a truly classic episode. Indeed, while I howled when Bree (wearing a stylish orchid trench with a coordinated scarf) took back the muffins she was offering as a bribe to jailed local prostitute Maisy Gibbons, I'd give the slight edge to Bree's hilarious emasculation of Rex over dinner at the country club.

Watching the tormented couple realize that all of their peers were staring and laughing at them because they'd found out that Rex was among Maisy's favorite customers, you just knew Rex was going to get a heaping plate of just deserts along with whatever else he ordered. I can't blame Bree for demanding that Rex pick up his menu and order like a man; why should their neighbors have had the last laugh? And anyway, did Rex really think he was going to leave Bree alone at their table? Certainly not after her beautifully tight-lipped monologue, which I will now print in its entirety, so that unhealthily obsessed Housewives fans can commit it to memory for this afternoon's water-cooler discussions:

''Rex, if you walk out of this restaurant, I will scream. I will scream about your cruelty. Then I will scream about your infidelity. And just to make sure it really hurts, I will scream about your distasteful sexual habits. You want to know what true humiliation is, you just take one step.''

Folks, TV hath no fury more delectable than Bree Van De Kamp scorned. Now where the heck is Marcia Cross's Emmy? (Speaking of award worthy, let's hope Sharon Lawrence's floozy Maisy doesn't get a life sentence in the local jail. Her villainous vixen has already brought out the delightful worst in both Bree and Lynette this season; surely, she can trade barbs with Susan or Gabrielle or Edie during May sweeps.)

Rex seems scheduled for some additional pain: Once again, this episode found the philandering jerk feeling under the weather. Could his wife's not-so-secret admirer (desperate pharmacist George) still be toying with Rex's heart meds?

Unlikely allies Susan and Edie also got comically criminal — getting hammered at happy hour (with one of them apparently driving home!), then breaking into Paul's house to discover Mary Alice's magical mystery Utah tape. But while Susan (who'd have guessed her house smelled of apricot candles?) lucked out by escaping Paul's house unnoticed, poor Edie paid the price — having to make out (and possibly more) with the murderous sociopath when he discovered her hiding behind the couch. Talk about taking one for the team!

Hooking up with Paul is about as appealing as having raw sewage back up into your shower, a fate suffered by Gabrielle and Carlos. Again, the show's most materialistic couple got taken down a few notches; they were forced to do their laundry in the hot tub and clandestinely borrow friends' washrooms. But Gabrielle scored points for the most delightfully daft crime of the week: coming across a construction-site Port-a-Potty during her daily jog, she decided to push it all the way home. The whole scenario set up Gabrielle to be the week's one-note comic relief — but her surprisingly moving game of dueling confessions with Bree changed all that. One question: Could Gabrielle's frequent trips to the loo be a sign of early pregnancy? With her tampered birth-control supply and a husband who can't leave the house, the likelihood of a mini-Solis is increasing. And wouldn't it be hilarious to see Gabrielle trade parenting war stories with Lynette?

Speaking of which, I wish the frazzled mother of four had had a little more confrontation time in that bouncy house with Popular's Lisa Darr, but it seems like the show's writers sometimes punish Wisteria Lane's most realistic, least criminal character by giving her mundane problems like her twins' head lice. Felicity Huffman's outsize talent shines brightest when she's scheming to take down indignant rivals like Maisy or the receptionist at her yoga studio, so how about raising the stakes and giving her a prolonged story arc that pits her against a formidable archrival? How about Ally Walker or Raquel Welch or Jackée Harry?

I bet any of those fine actresses would jump at a chance to kick-start their careers on Desperate Housewives, a series where the writers are thankfully in no hurry to write off interesting supporting players. Indeed, while the show's heart will always beat with Susan, Lynette, Bree, Gabrielle, and yes, Edie, there's enough criminal activity to go around for everyone.

What do you think? Which actress would you like to see spend some time on Wisteria Lane? Are the show's writers taking Lynette for granted? And which mysteries are you dying to see cleared up before this season ends?
24 March 2005 - Fans want Locklear to become a Desperate Housewife
Source : Ananova

Television fans would like to see Heather Locklear appear in Desperate Housewives.

US fans of the show named Locklear as the woman they would most like to see in Wisteria Lane according to a poll.

More than 60 per cent of those who voted in the phone survey on TV news show The Insider thought she would make the perfect addition to the show reports
22 March 2005 - WAR FLARES UP BETWEEN TERI HATCHER & MARCIA CROSS
Source : The National Enquirer

Teri Hatcher and Marcia Cross have gone from "Desperate Housewives" to bitter enemies, The ENQUIRER has learned exclusively.

Marcia is fed up because she thinks that Teri has been acting like a prima donna since she took home the Golden Globe Award two months ago, said a source close to the show.

She's angry at Teri, who plays klutzy divorced mom Susan, for showing up late for tapings and trying to direct the other actors and offer advice during their scenes, adds the insider.

Marcia's also livid that Teri refused to join her and their co-stars -- Eva Longoria, Felicity Huffman and Nicollette Sheridan -- in asking for a group raise, according to the source, who claims that Teri opted instead to negotiate more money for herself as the show's biggest star.

UNBEARABLE

"Teri has become unbearable," said the source.

But Marcia, who plays the fastidious Bree, is not shy about letting Teri know exactly how she feels.

"When Oprah Winfrey came out to film a 10- minute short episode written especially for her by the show's creator Marc Cherry, Marcia struck back," said a set insider.

"Teri is often late, so Marcia took her sweet time getting to the set. When she arrived almost a half hour late, she casually yelled to all who could hear -- 'Sorry guys, I was pulling a Teri.'

"Teri turned red with embarrassment.

"And when Teri offered acting advice, Marcia stopped her abruptly by saying, 'Thanks, Ter, but I think I'll go with the director's notes.'

"Teri was stunned."

However, an insider says that the biggest sore spot between the two stars is Teri's decision to go it alone instead of uniting with the other four female leads as they renegotiate their contracts.

Each actress earns between $47,000 and $74,000 per show, with Nicollette making the least and Teri making the most, said the source.

Now that the show is a smash hit, network execs and producers know they have to offer a sizable salary hike. They've tried to keep the cast happy in the meantime by giving them new trailers and $50,000 bonuses, added the insider.

According to the insider, Nicollette Sheridan has openly complained, the rest of the cast has remained mum so far about money.

"They say they'll let their attorney do the talking for them," said the insider.

The plan was for the women to negotiate their salaries as a group the way the cast of "Friends" did, said the source.

They'd get one attorney to represent them and they'd each ask for a quarter of a million dollars an episode, but settle for $200,000.

"Marcia, Felicity, Eva and Nicollette have all discussed it and this is what they wanted to do. But Teri basically blew them off," said the source.

"She feels the situation is more like 'Seinfeld' than 'Friends' -- where she is the star and the rest of the cast can fend for themselves.

"She's made it clear to them she wants big bucks, far more than anyone else."

If the rest of the cast gets $200,000 an episode, sources say Teri wants at least $100,000 more -- plus a piece of the syndication.

"Marcia told a pal, 'Teri's only in it for herself.'"

STAR TREATMENT

Although Marcia has been Teri's most vocal critic, the other co-stars feel much the same, said the insider.

"Teri didn't even attend Eva's 30th birthday bash at a friend's Encino home.

"Marcia told a friend: 'Teri wants star treatment, but the rest of us see right through her!' "
22 March 2005 - A "Desperate" Daddy
Source : EOnline

Wisteria Lane just welcomed its newest resident.

Desperate Housewives hunk James Denton and wife Erin O'Brien Denton are celebrating the birth of a baby girl.

Malin O'Brien Denton made her grand entrance Tuesday morning at an undisclosed Los Angeles-area hospital, tipping the scales at 7 pounds, 5 ounces.

"They are really great, really great," publicist Susan Madore said, adding that the family returned to their Glendale, California, home just hours after the delivery.

Malin is the second child for Denton, 42, and his personal trainer wife of three years. The couple also have a 22-month old son, Sheppard.

The Nashville native stars as the lovable but shady plumber Mike Delfino opposite Teri Hatcher.

Before landing his breakout role on Housewives, Denton costarred in the NBC sci-fi series The Pretender and racked up several guest-starring roles on such shows as Philly, Reba and the defunct Threat Matrix.
22 March 2005 - Teri's Rinse & Spit Man
Source : Sky Showbiz

Not that she has been... but there's definitely no excuse for Teri Hatcher to be seen out and about with yellowing teeth or a mouthful of shiny fillings anymore...

As the Desperate Housewives star is romancing a celebrity cosmetic dentist.

The 40-year-old actress was only recently telling the world that she hadn't had sex for four years - putting her lack of love life down to working long hours and her boobs:

"I breast-feed for two-and-a-half years so you don't want to see me out of my bra. That's why I haven't had sex in however many years. I'm shy about the whole thing," she said.

But now that all seems to have changed, after she's been spotted on a string of dates with Dr William Dorfman who fixes teeth on TV show Extreme Makeover: Home Edition - and does seem to have an impossibly white set himself.

According to New! magazine, the two got together after William mentioned to the presenter of his show that he fancied Teri.

And because his show and Desperate Housewives are put out by the same TV network, his mate managed to wangle a lunch date for the pair and they hit it off.

Teri has been married twice, and divorced her second husband actor Jon Tenney in 2003 - they have a seven-year-old daughter, Emerson Rose, together.
19 March 2005 - 'Desperate Housewives' Has a Cherry on Top
Source : Zap2It

If the picture-perfect block of Wisteria Lane that is the setting for ABC's hit Sunday-night prime-time soap "Desperate Housewives" represents the Hollywood dream of American suburbia, it's interesting to think it was born out of the mind of a man who was living through a Hollywood nightmare.

Fortyish, unemployed and being bamboozled by his agent (who later went to jail for embezzlement), sitcom writer Marc Cherry couldn't get a interview, let alone a writing job, a couple of years ago. So out of sheer desperation, he began to pen a spec script for a show that likely nobody would want (and, indeed, four networks rejected it initially).

But salvation came with a new agent and ABC executives Lloyd Braun and Susan Lyne, who saw the promise in "Desperate Housewives" and picked it up ... and wound up being fired shortly afterward. In a town where irony is as omnipresent as oxygen, their development slate - which, along with "Desperate Housewives," featured "Lost," the other big water-cooler show of this season - dragged ABC out of the ratings cellar and pushed it into the bright light of a new day.

Set in a "Stepford"-ian suburb (actually, the Universal Studios backlot) whose glossy exterior masks a boiling pot of deception, betrayal and lust (well, you knew it would), "Desperate Housewives" stars Marcia Cross, Teri Hatcher, Felicity Huffman and Eva Longoria as wives (or, in Hatcher's case, ex-wife) who bonded over the mysterious suicide of a friend and neighbor (Brenda Strong, who does posthumous voice-over narration).

In his status as Hollywood's fresh "It-boy," Cherry now drives a brand-new Lexus with a license plate that reads DSP HSWV, and he's trying to be magnanimous about it all. It's one of many subjects he discussed with assembled reporters at the biannual Television Critics Association press tour in Los Angeles in January.

"Vindication," he says. "Felicity and I talked about this one time. We were talking about how you kind of go through your career, and people are not answering the phone, and even they might say hurtful things to your agent. Then when success comes along, you have that choice, do I just smile, and I'm gracious, or do I go, 'Yeah, you mother ...'

"And I'm trying my darndest to just be gracious about the whole thing. But yes, there is some semblance of, 'I told you,' and there is a part of me going, 'I hope some of those folks are feeling sorry that they picked on poor Marc Cherry.'"

Back when the show premiered, Cherry gave his mother credit for being his inspiration. Apparently the two were sitting one day in her Orange County, Calif., home when something came on television about the trial of Andrea Yates -- a Texas woman convicted in 2002 of drowning her five children in a bathtub (incidentally, a Texas appeals court reversed the capital-murder conviction in early 2005).

Speaking to reporters in the summer of 2004, Cherry recalled, "I turned to her, and I said, 'Gosh, can you imagine a woman being so desperate that she would hurt her own children?' And my mother took her cigarette out of her mouth, turned to me and said, 'I've been there.' And I remember saying, 'What?'

"You must understand that I always thought of my mom as the perfect wife and mother, a woman who, I felt, had aspired to nothing more than being a wife and mother."

At that point, Cherry recalled, Martha Cherry told her son about her own moments of desperation, left alone on the farm while her husband was pursuing a degree at the University of Oklahoma.

"I was astounded," he said, "Suddenly it occurred to me, 'Well, gosh, if my mom has had these moments, every woman has had a moment where she's close to losing it.' So truly as I started talking to her and fining out these things, the genesis of the idea was born in that."

Now that it's 2005 and the show is a whopping hit, Cherry is asked if his mother wants any credit.

"Yeah," he says, "she wants a piece of the back end, and that's not going to happen. When the lawyers start calling, she goes into a home, so let's be clear on that. She's thrilled. All she ever wanted was for me to be happy."

Lots of people in Cherry's position, when that longed-for opportunity finally strikes, would absolutely roll over on anything to make sure it pans out. Or maybe, they just think they would.

"I had a meeting," Cherry recalls, "with an executive early on in the development of this where he said he felt I should change the title to, 'The Secret Lives of Housewives.' And I remember saying to him -- I had said to him how collaborative he would find me to work with -- then he said that, and I went, 'I'll quit if you make me change the title.'"

If there's a moral in all this, whether in Hollywood terms or in real life, it may be something as humdrum as persistence pays off, or as radio and TV talk-show host Larry Elder says, "'Luck' is what happens when preparation meets opportunity."

Of course, even the best-prepared writer may find himself running out of gas when the rubber hits the road, and unlike movies, television is in this for the long haul.

"The sad surprise," Cherry says, "has been the things I thought would take a whole season to reveal, I revealed by episode six. This machine just keeps eating up what little creativity I have. I think when I first talked to [new ABC entertainment chief Steve McPherson] about, 'Oh, I've got ideas into season three,' sadly, he doesn't know that just aired last night."
18 March 2005 - Teri Hatcher Exclusive: What Divorce Has Taught Her
Source : ETonline

TERI HATCHER is fighting the power -- woman power that is! The "Desperate Housewives" star traded in TV for the theater Thursday night as she gave a one-night-only performance in the critically acclaimed play The Vagina Monologues. We headed backstage with the Emmy-winning actress as she opened up about being a single mom and a single woman since her divorce from JON TENNEY just two years ago.

"I've learned so much, but I'm not sure if it's from being divorced," Teri tells ET. "You start to understand what it is you really want out of life and what's important."

Teri says after nearly two years of no work, the ABC show has caused her to regain some of her confidence. "It's layered our level of confidence and some days are better days and some days you feel insecure," she says. "Every day when I work on a scene I think, 'Is this funny? Am I doing a good job? Will people like this? Do I like this?'"

Teri took the star-studded stage along with MO'NIQUE, JILLIAN BARBERIE and "Melrose Place" alums LAURA LEIGHTONand LISA RINNA. The famous ladies joined forces and performed the EVE ENSLER hit show to raise money and awareness for the 2005 Worldwide V-Day Campaign to end violence against women. Teri has been involved with the cause for many years and says she feels lucky to be a part of it.

"I actually said to my daughter before I left the house, 'Thank you for letting me leave you here for a couple of hours when I would like to be cuddling with you and putting you to bed, but I'm going to go and raise money and help a lot of women who haven't been as lucky as us,'" she says. "So it's nice to be able to share that with my daughter."

Hollywood heavy-hitter PENNY MARSHALL directed the talented women in the Obie-winning production, and the proceeds will benefit The HerShe Group. The money raised at the 1100 worldwide V-Day benefit events will also be donated to the 2005 V-Day Worldwide Campaign and Women of Iraq: Under Siege.
17 March 2005 - 'Desperate Housewives' Widescreen DVD Petition
Source : GetDesperate.com

Here is a message taken from GetDesperate.com :

On March 16, Touchstone Television officially announced the first-season DVDs for Desperate Housewives. From September 20 onwards, fans will be able to buy a box set containing many of the features they'd been hoping for: making-of documentaries, audio commentaries, and even an entirely different ending to the upcoming first-season finale. However, the DVDs have one big letdown: they will not be available in a widescreen version, as they will only be released with a cropped pan & scan image.

Over the past year, Desperate Housewives fans living in areas where there is an HDTV ABC affiliate have been able to enjoy the show in all of its widescreen glory, and most of them would presumably not want to go back to a smaller image with the DVD release. In addition, viewers without an HDTV affiliate who had been hoping to catch up with the DVD release, will now be robbed of the chance to finally see Wisteria Lane in full wide scope. For that reason, we have launched a petition asking Touchstone to reconsider and release these DVDs in a widescreen version, either in addition to or as a replacement of the pan & scan version.

Do you agree that the fans should have an opportunity to see as much of Wisteria Lane as possible, and that Touchstone Television should not prevent us from doing so by cropping the image on their DVD release? Then help us by signing the below petition! Once we have collected enough signatures, the petition will be presented to Touchstone, in the hope that they will reconsider and release a widescreen version of the show.

To know more and sign the petition :


.
15 March 2005 - Desperate Househusband Tells All
Source : Tv Guide

Playing the scorned spouse isn't always easy on a guy, especially if he comes from a machismo Latino background. Both a Texan and Mexican-American, just like his TV-wife Eva Longoria, Desperate Housewives' Ricardo Antonio Chavira gets plenty of teasing for all the sleeping around Gabrielle does behind Carlos' back. Being a jailbird under house arrest à la Martha Stewart doesn't help his image much, either. So far, Chavira's gotten mixed reactions from the Hispanic community.

"It's funny," the amiable 33-year-old says. "Latin women are like, 'Shame on Gabrielle for doing what she's doing. She doesn't know what she's missing!'" Since Carlos spends a good amount of time wearing just a towel, we have some idea...

"The men are all, 'Hey, you know your wife's sleeping with your gardener?' And I'm like, 'No s--t, guys.' Or they're like, 'Hey, when are you gonna catch the gardener?' And then, I like to say, 'Hey, when are you going to catch yours?'

"A lot of them actually want me to beat the crap out of John [the boy toy played by Jesse Metcalfe]," the actor laughs. "He's 17, people!" Correction, Mr. Chavira, he's now 18, so all bets are off.

Of course, his Desperate househusband gig is a breeze compared to the reaction he got for his big gay shocker on Six Feet Under. Just to refresh your memory, he played a very macho (and very married) construction worker who was caught by his brother-in-law (Freddy Rodriguez) in the midst of a tryst with another guy.

"You should have seen the reaction of the Latino community in my hometown of San Antonio to that one!" he recalls. "Especially the men — they were not happy."

But their negative reactions didn't faze him, Chavira says. "My thing is, just as long as it's not gratuitous, if it fits into the scheme of the story line, I'm fine."

Actually, the requirements of doing stud service on TV — i.e., doffing his clothes and simulating sexual scenarios — are pretty new for him. "It's definitely been awkward," he chuckles nervously, "but I'm getting better at it. Maybe."

Just keep practicing, dude. We'll let you know when you've got it right.
14 March 2005 - FCC Clears 'Desperate' 'MNF' Skit
Source : Zap2It

Nicolette Sheridan's bare back is safe for prime-time viewing.

The Federal Communications Commission ruled Monday (March 14) that a skit involving "Desperate Housewives" star Sheridan that aired on ABC's "Monday Night Football" last fall may have been "titillating," but it wasn't indecent.

The unanimous ruling shoots down numerous complaints about the show-opening sketch, which aired Nov. 15 and featured Sheridan, playing her "Housewives" character, Edie Britt, trying to seduce Philadelphia Eagles wide receiver Terrell Owens in the Eagle locker room. Viewers saw Sheridan drop the towel she was wearing and expose her back, above the waist.

"Although sexually suggestive," the FCC's ruling states, the segment "is not graphic or explicit. Owens is fully dressed throughout the segment, and, with the exception of a moment when her bare back is exposed to the audience, Sheridan is at all times fully covered with a towel."

The commission's ruling also notes that "[n]o sexual or excretory organs are shown or described, and no sexual activities are explicitly depicted or described."

In a session with reporters earlier this year, both Sheridan and "Desperate Housewives" creator Marc Cherry, who helped write the sketch, expressed surprise at the uproar it caused. (Cherry also revealed that one version of the intro paired Sheridan with "MNF" announcer John Madden instead of Owens.) "We were just stunned, and we felt bad about it," he said.

FCC Commissioner Michael Copps agreed with the ruling but urged broadcasters to show a little more restraint in the future.

"There wasn't much self-discipline in this particular promotion," Copps says in a statement. "As stewards of the public airwaves, broadcasters can and should do better."
12 March 2005 - Desperate Housewives - The Complete 1st Season

Source : TvShowsOnDVD

Release Information:

Studio: Buena Vista Home Video
Release Type: Season Boxed Set
Release Date: 9/20/2005
Number of Discs: 6
Number of Episodes: 22
Running Time: Unknown mins
Retail Price: $59.99 (US$)
$87.99 (CAN$)

Audio/Video Information:

Video: Anamorphic Widescreen (1.78:1)
Audio: Unknown
Subtitles: None/Unknown

Buy from Amazon.com (US)

Description:

A primetime soap with a truly contemporary take on "happily every after," this new hour- long drama takes a darkly comedic look at suburbia, where the secret lives of housewives aren't always what they seem.

Looking down on her friends and family isn't a way of life for Mary Alice Young (Brenda Strong) . it's a way of death. One day, in her perfect house, in the loveliest of suburbs, Mary Alice ended it all. Now she's taking us into the lives of her family, friends and neighbors, commenting from her elevated P.O.V.

Her small circle of girlfriends are wondering why one of their own would do something so rash. and so messy. There's Susan Mayer (Teri Hatcher), the divorcee and single mom who will go to extraordinary lengths for love; Lynette Scavo (Felicity Huffman), the ex-career woman who traded the boardroom for boredom, mixed with moments of sheer panic as the mother of four unmanageable kids; Bree Van De Kamp (Marcia Cross), the Martha Stewart on steroids, whose family is about to mutiny; and Gabrielle Solis, the ex-model with everything she's every wanted - a rich husband, a big house - so what is she doing with John, the 17-year-old gardener (Jesse Metcalfe)? And there are her neighbors, including serial divorcee Edie Britt (Nicollette Sheridan), whose romantic conquests have everyone buzzing.

Then there are the men: Hunky new neighbor Mike Delfino (James Denton), a supposedly widowed plumber who has Susan and Edie vying for his attention; Rex Van De Kamp (Steven Culp), who's just told Bree he wants a divorce; Gabrielle's better half, Carlos (Ricardo Antonio Chavira), who figures he bought his wife a $15,000 diamond necklace, so she should do whatever he tells her; as for Mary Alice's newly-widowed husband, Paul (Mark Moses), there must be a reason why he's acting so suspiciously - and why he's digging up the pool in the middle of the night!

From her unique vantage point, Mary Alice sees more now than she ever did alive, and she's planning to share all the delicious secrets that hide behind every neighbor's closed door in this seemingly perfect American suburb.

This information is not complete and will be completed when the information or time becomes available

Features:

FINAL LIST OF EXTRAS IS TO BE ANNOUNCED
10 March 2005 - How big companies exploit desperate housewives
Source : MSN

Wisteria Lane is the road in TV show Desperate Housewives where all the houses are newly painted and all the kitchens spotless. There's no room for a germ in the bathroom, nor a crumb on the kitchen floor. The guilty secret's finally out – here's how household products companies are cashing in

There's a scene in Desperate Houswives where Lynette Scavo, ex high-flying career girl and mother of four, takes Ritalin, the child attention deficit disorder drug, in order to keep up with the impossible domestic schedule of entertainment and cleaning.

Wannabe domestic goddesses are driven by the whiff of furniture polish and floor wax, the crack of starched sheets and whiter than white smiles. We're talking Colgate not cocaine, Lysol not paracetamol. It's not the drugs industry, but they're still hooked. It's cleaning that makes them desperate.

Mass wisteria

The real suds in this soap are the spotless homes. If Desperate Housewives is a harbinger of retro domesticity, then the beneficiary is a giant industry dominated by just a few global companies: Procter & Gamble, Unilever and Reckitt-Benckiser.

Instead of their products becoming cheap commodities, they have put brand space between themselves and the supermarket generics by constant innovation. We don't have the time to do our chores properly, and enough of us feel desperate about it to load up on every product going.

Dates over the dishwasher

Take dishwashers, for example. Savvy stock market investors would know that it's an area that has powered Reckitt Benckiser from nowhere to everywhere in just a few years.

Few of us had dishwashers until the 1980s, and they worked on a variant of the soap powders that were used for washing clothes. However, though the dishwasher saves plenty of time, the results aren't always perfect. You have to buy a special salt at ten times the price of ordinary salt, to deal with calcium in the water and stop the pitting on the cutlery. Then there is rinse aid to help make glassware shiny.

Reckitt Benckiser went a step further. With Finish, the global market leader in dishwasher products, the company formulated the product in tablet form to help measurement, then added a coloured 'powerball', a brilliant marketing device which allows Reckitt to charge £8.79 for 48 tablets, more than twice the price of most supermarket 'own' brands.

See how Reckitt plays on your bacteria fears in its dishwashing tips at www.finish.co.uk (external link, opens new browser window)

However, if your pans still come out dirty it is because you didn't use Finish Gel (£3.79), a product designed to help lift dried food off, designed for those of us too lazy to pre-soak dishes. Naturally, you should use a dishwasher freshener too, a product which Finish supplies, price £1.96. Finally, there is the Finish Protector (£4.29), a device you hang in the dishwasher which protects your glassware against the permanent milky stains caused by too-frequent washing.

Guilty secrets

In total that lot comes to almost £20, and much of it will have to be replaced in less than two months assuming you use the dishwasher daily. What is so brilliant or appalling (depending on whether you are a shareholder or a customer) is that you buy a product that actually does the job less well than diligent handwashing, then buy more products to deal with its defects. Yet you can't imagine Desperate Housewives' own domestic perfectionist Bree van der Kamp risking those glasses coming out milky.

Grime pays

Dirt is particularly scary. No longer must a kitchen just appear clean, it must be as hygienic as an operating theatre. Not just the work surfaces. You can even buy Dettol antiseptic wipes for the floor. The bar of acceptable hygiene, it seems, is constantly being raised.

The giant hiding under your sink

For the cleaning products industry, this is a great time. Reckitt Benckiser shares have almost quadrupled since the company was formed by a merger in 1999. Procter & Gamble, maker of brands such as Fairy, Pampers, Flash and Vortex, last month agreed to buy shaving products firm Gillette last month in a deal worth $57 billion. The combined company will have annual global sales of $60 billion (£32 billion), and there can hardly be a household in the western world which does not have its products under the sink.

All this must be a little disconcerting for women. After all, they found equality in the bedroom in the 1960s, in pay and conditions in the 1970s, in politics in the 1980s and in the boardroom in the 1990s. Yet when it comes to the washbasin, the dishes and the lavatory brush, Desperate Housewives shows there's no equality in sight even in the noughties.

With careers on the go and guilt still on the mind, booming sales of dishwasher deodorisers shows Wisteria Lane is not a place, but a state of mind.
9 March 2005 - 'Desperate Housewives' without a script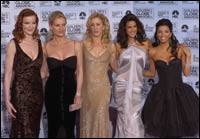 Source : U-Redlands Daily Facts

Tuesday evening's hot ticket in Los Angeles was clearly the Museum of Television and Radio's William S. Paley Festival's sold-out tribute to "Desperate Housewives." ABC's cheeky runaway prime-time soap revels in the trials, angst and intrigue of a group of five suburban women played by Marcia Cross, Eva Longoria, Felicity Huffman, Teri Hatcher and Nicollette Sheridan. (Brenda Strong, whose character emptied the contents of a revolver into her skull in the premiere episode, narrates cheerfully from beyond the grave.) The show's success was discussed by creator Marc Cherry and its cast (save Hatcher, who Cherry said was shooting that night). The men of Wisteria Lane were allowed to participate as well, as did the producers. An early episode of the series was screened in which perfect Bree's (Cross) imperfect son mowed down restless Gabrielle's meddlesome mother-in-law and guest star Richard Roundtree offered the observation, "Sometimes evil drives a minivan."

Actress/author/screenwriter Carrie Fisher then moderated a panel discussion, distancing herself from the duller questions that the Paley staff had provided her.

Here are the lessons we gleaned on how to create water-cooler television and what happens to cast members' private lives when they suddenly find themselves on TV's hottest new show.

First things first - fashion report: Cross dazzled in a burgundy satin dress. Huffman wore a simple, elegantly form-fitting black party dress. Longoria concealed her physique, seen often enough on the show, beneath a cream-colored jacket and ensemble. Sheridan came casual in a jacket and jeans. Cherry was resplendent in a black sport coat and crimson T-shirt with suspenders.

Everything old is new again: The festival's program notes for "Desperate Housewives" - which critics declared one of the most original series in years - found echoes of, among other things, "Peyton Place," "Melrose Place," "Sex and the City," "American Beauty," "Gilmore Girls" and John Cheever's tales of suburban anomie.

Cherry mentioned yet more inspirations - Woody Allen movies, for one_ then deadpanned, "I stole from so many places, it came out original."

He related the famous story of how he was inspired to create the show: Discussing the case of a woman on trial for drowning her children, he wondered to his own mother, what would drive someone to consider hurting her own children. She replied, "I've been there."

Mamas, don't let your babies grow up to be TV writers: Cherry revealed a source of many plot lines' inspirations: "Every writer has some story of their mother doing something awful."

He remembered his mother, driven to distraction by his youthful misbehavior, kicking him out of her car and driving off. "I remember that car getting smaller and smaller in the distance," he said. (She came back eventually.)

"Some could say, 'That's abuse,' but I say, 'Well, it was pretty effective.' " Cherry revealed that Huffman's harried Lynette is based on his mother when he was a child, while Cross' acidly demure Bree is based on his mother in his teen years.

"She says to me, 'Oh, that interesting Bree character, in her pearls.' I say, 'Mom, you're wearing pearls right now.' There's a little bit of a disconnect.

"My mom doesn't get it yet."

Panel etiquette Huffman's cell phone went off midpanel; she pretended to take a call from her husband, William H. Macy. Longoria and Sheridan whispered together while Cherry spoke, but since they were mic'ed up, one could almost make out what they were saying. Almost.

"Why is mine only on?" Longoria wondered with a laugh after realizing her asides were being broadcast to the audience. "This is so uncomfortable."

"Get drunk beforehand," Cherry advised.

Popping the paparazzi: Longoria, who has become the show's favorite tabloid target, revealed some of the ways in which she has toyed with shutterbug stalkers. Dining with a gay friend, the two emerged from the restaurant holding hands. "Sure enough, the (tabloid) headlines read: `Eva's New Man.' "

But she has learned some lessons from the ubiquitous unwanted attention: "If you got something free and you want more of it," she explained, get photographed with it. Seeing paparazzi outside her home one day, she grabbed a favorite handbag and headed out, posing for a shot.

"It (appears) in a magazine, and (the designer) sent me more bags," Longoria exulted.

Cross, who shares Longoria's taste in accessories, high-fived her.

It's not just the gals: James Denton, who plays neighborhood mystery hunk Mike Delfino, says photographers pursue him, too: "I had a guy try to take my picture with a picture-phone at a urinal."

Cherry joked, "I apologized."

Moment of amusing honesty: Cherry acknowledged that he was reluctant to hire Cross to play Bree: "She was too much like my own mother. I think I was scared."

Once he saw Cross' work, he admitted, "I thought: 'I'm stupid.' " To Cross' credit, it was difficult to tell whether she was swollen with pride or utterly aghast at being compared to a middle-age man's prissy mother.

Season eight spoiler alert: "In season eight, the women will become terrorists," Cherry said. To be fair, this revelation came in the context of Cherry's admission that it's difficult to continuously uncork shocking narrative revelations.

"We will run out of ideas in November of next year," he predicted.

Spoiler alert, honest: "Most everything (regarding the show's myriad mysteries) will be revealed in the last two or three episodes," Cherry revealed. And Brenda Strong will return in person in the final episode.

S&M as clean-cut, all-American activity: In concocting the subplot concerning Bree and Rex's relationship, Cherry consulted with Steven Culp (who plays Bree's husband) for ideas on what Rex's fetish might be.

"I said no to his first six choices," Cherry said. "S&M was the !ital!safe choice."

Carrie Fisher makes a love connection?: Fisher told Culp, "I want to ask about the S&M." Culp replied, "We can talk about that later."
9 March 2005 - 'Desperate' For the Truth
Source : ExtraTV

With a huge hit show comes lots of rumors, and the "Desperate Housewives" are experiencing just that. "Extra" went straight to the source to find out what gossip is true and what is not.

"Desperate Housewife" Eva Longoria set the record straight about her love life and the 300-person birthday party she threw for herself, complete with margaritas and life-like piñatas.

"I am dating," she said. "It's not Tom Cruise. I'm not dating Tom Cruise, that's Sofía Vergara."

Got it Eva; moving on to the birthday party, about which Eva revealed: "I said, 'What do we want to beat the crap out of?' I was going to make it one of two things: the paparazzi or President Bush, so we went with the paparazzi."

Eva was extolling as the gang from Wisteria Lane walked the red carpet at the William S. Paley Festival at the Museum of Television and Radio in Hollywood, where we went on desperate rumor control.

Rumor number one: who's getting married? And are the rumors true that the wedding will be the season-ending cliffhanger?

"You leakers sneakers, you got it all wrong," Longoria insisted. "There is a wedding. It's not in the finale, and it's not in that capacity."

Eva may know a lot, but is it true that "Desperate" fever is so hot that the cast is now being kept in the dark?

"They're shredding scripts now," James Denton confirmed. "We're only getting scenes that we're in so we're getting less and less."

The hot storylines have set a ratings record in Great Britain, and they even have Prince William hooked, but is it true that they're desperate for the housewives Down Under too? "The show has garnered the highest ratings of any television show in the history of Australia," Doug Savant revealed.
7 March 2005 - Rumor Control: "Desperate" To Set the Record Straight
Source : ExtraTV

The "Desperate Housewives" have become a bona fide hit, but with the success, comes the false rumors. Luckily, the stars know where to turn to set the record straight: "Extra's" Rumor Control.

Rumors are swirling that Teri Hatcher is now getting mega bucks for her role on the ABC hit. So is she getting a new deal for her "Desperate" role?

Yes, reports indicate that Teri's new deal gives her a raise from $38,000 to $285,000 per episode. So we went right to the sexy source at the Academy of Magical Arts Awards Show to get the details. But, "I don't even know how much money I make," was all Teri told us.

Did Nicolette Sheridan lose her shirt in Vegas?

No, but the sexy star was spotted gambling in Sin City over the weekend. She joined stars like Leonardo DiCaprio, Tobey Maguire, Nicky Hilton and "Alias" star Michael Vartan at the third anniversary bash for Bellagio's nightclub, Light.

"It's a lot of fun, great people and poker players," Sheridan said.

Did Eva Longoria beat up the paparazzi at her 30th birthday?

Yes -- well sort of -- the paparazzi came in the form of a piñata. Eva shared a kiss with good friend JC Chasez and a group hug with "Desperate" neighbors Marcia Cross and Felicity Huffman, and then she went to work on the piñata.

But beware, the whack she put on the paparazzi piñata shows that even though the diva is petite, she packs a powerful punch.
7 March 2005 - Teri & Marcia 'Desperate' for Privacy
Source : ET Online

"Desperate Housewives" creator/executive producer MARC CHERRY has described his cast and himself as just a bunch of people out of work who got together to put on a show. Little did they suspect that the dark comedy would turn out to be the monster hit that it has become, so much so that the stars were rewarded with a bonus $250,000 as a result of the high ratings.

ET was on hand when the cast of ABC's No. 1 series held court at the Academy of Television Arts and Sciences for "An Evening with Desperate Housewives."

One of the questions that the program's moderator LEEZA GIBBONS had to ask was: How has success changed your life? Some of the answers were surprising.

"It's just done a complete 180," claims RICARDO ANTONIO CHAVIRA, who plays Carlos Solis. "Before I did the pilot for this, I was up in Seattle doing regional theater and just traipsing around the country with my little family. Now, I've purchased them a nice house in San Antonio, TX, where I am from. I go back and forth. I have the luxury of being able to provide my son with the life and opportunities that no one in my family ever had."

EVA LONGORIA shares that she, too, has recently purchased a new home, but for TERI HATCHER, who was a self-admitted "has been" before landing the role of Susan, it is a two-edge sword. While the former "Lois and Clark" star says she is eternally grateful for all that the series has given her, there has been a downside: Paparazzi scaring her seven-year-old daughter EMERSON.

Teri has previously talked about how she made the conscious decision to stay home for her daughter's formative years, which took her out of the limelight. So much so, she had trouble getting agents to return her phone calls. So she is a fierce mother, who has always wanted the best for her daughter. That said, she recently took Emerson to see 'Lemony Snicket's A Series of Unfortunate Events' at a theater in Sherman Oaks, where they were surrounded by paparazzi

"We were waiting for our car, and they just got really aggressive and literally came up with those long lenses about three feet from us," Teri recalls. "And my daughter grabbed my leg and started crying. She said, 'Mommy, I'm scared. Can you make them stop?'"

Teri held on to her daughter until the car came, helped out by other mothers who were also waiting, and she was able to get in the car and drive away. Once they were safe, she tried to explain to her daughter that the photographers make their living by taking pictures of people. But Emerson didn't understand, asking, "Why would anyone buy a picture?"

Teri has since tried to make it into a game for her daughter, bringing changes of clothes and such. And, surprisingly, she is not the only one being staked out. Even Marc's mother, MARTHA CHERRY, who lives in Orange County has had run-ins with paparazzi.

"Of the many things my mom thought she would have to deal with in this world, having someone jump out of bushes and take pictures of her [isn't one of them]," Marc admits. "My mom doesn't yell. She yelled that day. She went up to this English photographer and demanded his camera. And he wouldn't give it to her. Then she just yelled at him."

Martha has gotten a bit more media savvy and now she's taken herself out of the limelight. Still it had to be a proud moment at the Golden Globes.

"To bring my mom and have her watch as I stood onstage in front of everyone and give a speech, that means the world to me," Marc says.

MARCIA CROSS has also been the subject of a media feeding frenzy when the rumors swirled around that she was gay because she was gracing the cover of The Advocate.

"It's an unbelievable invasion of your privacy," she shares. "It feels attacking and it's hurtful. You just go home and cry."
5 March 2005 - 'Metcalfe Adores His Body
Source : Teen Hollywood

Desperate Housewives star Jesse Metcalfe enjoys undressing for the hit TV show's notorious love scenes - because it gives him an excuse to show off his well-toned body.

The 26-year-old acquired his taste for baring all on TV starring in American soap opera Passions, and he's been frantically working out ever since to ensure viewers of the popular new show appreciate his fine physique.

He says, "The thing that most people really want to ask me about is being naked on set. But from being on a soap, I'm pretty used to it. I've had a lot of love scenes on soaps, so I'm pretty accustomed to taking my shirt off and stuff."

"If my shirt is off all the time and I'm on national TV with over 20 million people watching me, I want to look my best. I work out five times a week. I'm lucky because I'm still young and I've got a pretty fast metabolism."
4 March 2005 - 'DESPERATE' SON: 'NOT SO GAY'
Source : New York Post

The young actor who plays Andrew is telling fans his character was "just experimenting" in last month's episode.

"Hahaha, my character (Andrew) doesn't 'come out' because he is not gay," says actor Shawn Pyfrom on his official Web site (www.shawnpyfrom.com).

"He has a gay experience, but he is just experimenting right now. But keep watchin' and you'll see what happens with my character," says the message.

In the "coming out" episode, Shawn was discovered in the swimming pool, naked, making out with another boy, Justin.

That left the show with a cliffhanger until it returns later this month.
3 March 2005 - Teri's Big Pay Rise
Source : Sky Showbiz

Teri Hatcher could soon be following in the footsteps of those Friends stars by earning herself a huge pay packet.

The former Bond Girl has signed up for a second series of Desperate Housewives and will pocket a nice £150,000 an episode.

This makes Teri's pay rise a hefty £130,000 per episode after she received a meagre £20,000 for each show in the first series.

According to The Sun, Teri's co-stars will also see their earnings rise... but in a more modest fashion.

Eva Longoria, Marcia Cross, Felicity Huffman and Nicolette Sheridan earned just £970 an episode in the first series of the hit show but will see that grow, as well as the additional bonus of a Mini car.

But 40-year-old Teri, who plays single mum Susan Mayer, is the main star of the show - winning a Golden Globe best actress award last month.

But all this comes after she spent several years in relative obscurity following her early success as Lois Lane in The New Adventures Of Superman.
2 March 2005 - eBay Buyer Bids on Fake 'Housewives' Role
Source : Celebrity Justice

ABC's sexy "Desperate Housewives" clean up in the ratings each week and have millions of diehard fans desperately waiting for the next episode. So imagine the Internet stampede when a walk-on part of the show went up on eBay. There was just one problem: it wasn't real.

"CJ" has obtained the lawsuit filed by ABC against one Vel Headley. The suit claims that under the name Movie Miracles, Headley "purported to offer via eBay auction a walk-on role/part day on set of 'Desperate Housewives,'" even though, the suit says, no such role exists.

According to the suit, the auction ended with a winning bid of $8,700. The buyer apparently thought they'd be hanging out with Bree, Susan and Mike the Plumber.

So how could the alleged seller get away with this? Well, Movie Miracles apparently had a good history on eBay. The seller's user feedback is full of positive comments, so it makes sense that buyers felt they had nothing to beware of.

But using "Desperate Housewives" or ABC images without permission would be copyright infringement, and now the alleged eBay seller has bought themselves a part in a legal drama.

ABC wants the alleged seller to turn over any profit they made. It's not clear if the buyer who got duped will get any money back.
2 March 2005 - Denton 'Desperate' for Baby Help
Source : Extra TV

James Denton, the hunky plumber from "Desperate Housewives" was in a desperate situation. Not only did he just buy a new home, but he and his pregnant wife, Erin, are expecting their second child any day now. And while James knows how to fix those pipes on Wisteria Lane, when it came time to decorate his real life nursery, he needed some help.

But never fear, "Extra's" here! First, we sent our decorating guru Michael Moloney to the "Desperate" plumber's house, and then we recruited Wendy Bellissimo, baby designer to the stars (who, appropriately enough, is nine months pregnant herself).

With our team assembled, we faced the challenge: the room was small and the previous owner had painted it with pink and white stripes. The Denton's nursery needed to be gender neutral.

Everyone's clocks were ticking (especially Erin's) as our team set to work. On day one, Moloney took care of the trouble spots on the floor, and he changed the pink stripes to blue.

And as the design team taped, sanded, varnished and painted, Wendy hit Babies 'R Us, where her own line of Wendy Bellissimo baby décor is sold, for some shopping. And she was a lady on a mission: "Baskets, lots of baskets for storage, especially since two are sharing."

Next up were beds, bookshelves and blankets, and Wendy shared with us the best part: "It's all machine washable, for mom and baby it has to be."

We even set up the Dentons with Johnson's Baby products and a Gerber breast pump. And no room would be complete without Moloney's signature touch -- M&Ms.

After only four days, it was time for the big reveal. And there's no doubt this dream nursery was a dream come true for James and Erin, especially when their son, Sheppard came in.

"Well, if you've seen the rest of the house, you know we'll all be living in here," James joked. "We'll bring the futon in, and we'll make it a very nice living room as well."

"It's unbelievable," he continued. "This space and how comfortable it is and just the areas they both have. I can't believe it, you guys are amazing!"

Looks like it's time to bring on the baby!
© Copyright Desperate Housewives Fan Site
Photos and videos are property of
ABC
2004-2006