24 March 2006 - Kyle MacLachlan Joins 'Housewives'
Source : ETonline

KYLE MacLACHLAN, "Sex and the City"'s hot doc Trey MacDougal, will join the cast of "Desperate Housewives," it was reported by TV Guide. In his new role, he's "trying to make a connection with Susan (TERI HATCHER)," Executive Producer TOM SPEZIALY tells the magazine's MICHAEL AUSIELLO. MacLachlan's multi-episode storyline begins April 16, and could possibly continue into the next season if the storyline plays out. MacLachlan most recently wrapped up work on ABC's "In Justice" and previously starred in "Twin Peaks."
23 March 2006 - 'Housewives' sets up shop in computer game
Source : USA Today

If you think you know all about the women of Wisteria Lane, wait until you become one of them — virtually, that is.

Stroll by Gabrielle's house in the Desperate Housewives game.

Friday, Buena Vista Games will announce a computer game based on ABC's mega-popular Desperate Housewives. Due in September for Windows XP computers, Housewives turns a player into the newest housewife to move onto Wisteria Lane.

Not only can you tap into the delicious secrets held by your naughty neighbors — including Bree, Lynette, Gabrielle, Edie and Susan — but shortly after settling into this cushy suburban neighborhood you'll also discover you were in a car accident 20 years ago and have been living with amnesia ever since. The goal of the game is to interact with the characters to unlock a few dark secrets of your own.

"As fans of the show would expect, the game is loaded with gossip, betrayal, murder and sex — you know, all the things women like," says Mary Schuyler, the producer of the title at Buena Vista Games.

Housewives, a dialogue-heavy mystery with an emphasis on social interaction and character customization, is geared toward female players. "There aren't a lot of games for women today, but this is one where women will really have a good time," Schuyler says. (The game will be rated for ages 13 and up.)

Scott Sanford Tobis, one of the TV series' writers, was tapped to script the game. "I want players to feel like they've found a bonus episode of the show," Tobis says. "In fact, it's more like eight separate TV episodes; I wrote about 13,000 lines of dialogue for this game."

Before moving into the neighborhood with your husband and son, you customize the look of your housewife by selecting from hundreds of facial features, body types and clothing options.

The top-down and slightly angled view of the game world should be familiar to those who play the popular Sims games. Housewives also borrows a few Sims-esque features, such as the ability to customize furniture in your home, upgrade appliances and walk outside to see what the neighbors are up to.

Each of the game's self-contained "episodes" is introduced by the TV series' narrator, actress Brenda Strong (as late housewife Mary Alice Young), but with a larger story arc that blankets the entire tale.

Players can also engage in mini-games, such as a gardening challenge, a timed cooking test, and a weekly poker game where players can win money and use it to buy extra goodies for their home.

If you lose too much money, however, you may be tempted to sneak into a neighbor's home and steal their items. "And it wouldn't be a Desperate Housewives game if you couldn't try to steal a neighbor's husband, too," Schuyler says.
21 March 2006 - Marcia Cross Wedding Secrets
Source : ETonline

"Desperate Housewives" star and soon-to-be-blushing bride MARCIA CROSS is gracing the cover of Los Angeles Confidential magazine, and ET's own CHERYL WOODCOCK was exclusively behind the scenes of the photo shoot to get the goods!

"It's an amazing magazine, and I also did a shoot for the same chain of magazines, Boston Common, which is where I'm from, so now it's a thrill to be doing it in L.A. for L.A. Confidential," Marcia tells Cheryl.

The hip Los Angeles Confidential is part of the Niche Media Group, run by the talented JASON BINN, and Marcia's glam shoot was held on location at the beautiful Bacara Resort & Spa in Santa Barbara, CA. Despite the chilly weather, Marcia managed to look spectacular for the upcoming issue, hitting newsstands this May.

"I have a lot of people who help me, that's what it is," laughs Marcia about her beauty secrets.

Of course, the perfect look will be a top priority when Marcia gets married later this year to fiancé TOM MAHONEY. "I'm really thrilled that I met someone that I want to spend the rest of my life with," says Marcia.

In fact, love is in the air for a bunch of the "Housewives," as EVA LONGORIA is hanging tight to basketball beau TONY PARKER and ET recently broke the news that NICOLLETTE SHERIDAN has become engaged to her musical mainstay, MICHAEL BOLTON!

"I think there are going to be three weddings so, I'm really excited," reveals Marcia. "I'm so happy for Nicollette, and I'm sure Eva will marry Tony at some point, I hope. I don't have any news; I'm just saying [Eva and Tony are] a beautiful couple and it looks good for the future."

So, when will the super-busy Marcia be tying the knot herself? "In-between takes!" she exclaims. "It's hard."

And believe it or not, the well-educated actress has other things on her mind besides the wedding, and is considering adding a doctorate to her masters in psychology and her degree in drama from Julliard.

"If it all dries up I'll get my doctorate," she laughs, "but right now I'm just going to enjoy the ride."
20 March 2006 - Is Jared getting desperate ?
Source : Sky Showbiz

Wisteria Lane looks set to get a hunky new resident in the shape of Jared Leto.

And which Desperate Housewife gets to romp with Jared?

Sex-mad Gabrielle (Eva Longoria), of course.

Fans of the Hollywood heart-throb will be pleased to see Jared back on sexy form after piling on the pounds for the movie Chapter 27.

According to The Sun, producers on the show thought Cameron Diaz's ex-boyfriend was perfect to play Gabby's new love interest.

But there'll no mowing lawns for the Panic Room star - he'll play a grocery store worker in the hit show.

Jared will appear in four episodes in the next series when he gets saucy Gab's hubby thrown back into jail.

Move over, Jesse Metcalf...
14 March 2006 - 'Sopranos'-'Housewives' Battle Bloodies Both
Source : Zap2It

It's tempting to use a word like "whacked" when discussing the "Sopranos"-"Desperate Housewives" Nielsen face-off on Sunday night. Tempting, but not really accurate.

The truth is, both shows were a little off their game -- but neither HBO, which airs "The Sopranos," nor ABC, home of the "Housewives," has cause for grave concern.

The season six premiere of "The Sopranos," which came 21 months after the last original episode, drew a shade under 9.5 million viewers on its first airing. That makes it the third most-watched program on TV for the 9 p.m. Sunday hour, behind "Desperate Housewives" (22.2 million) and NBC's "Law & Order: Criminal Intent" (12.3 million). That's not bad, considering only about 28 million homes subscribe to HBO and pretty much anyone with a TV can watch ABC or NBC.

But it's also well off the numbers for the past three "Sopranos" season premieres. The fifth-season opener in March 2004 brought in 12.1 million people, and the debut of season four, in September 2002, averaged better than 13 million viewers.

HBO is less concerned with first-run ratings than most networks, as "The Sopranos" will re-air multiple times this week on its various digital channels and is available on demand.

As for "Desperate Housewives," the 22.2 million people who watched Sunday were about 900,000 less than the show is averaging this season. Its 8.8 rating among adults 18-49, advertisers' favorite demographic, was a point below its season average. But it still dominated the hour in both measures.
1 March 2006 - Burnett joins 'Desperate Housewives'
Source : USA Today

Carol Burnett soon will be reporting to Desperate Housewives' Wisteria Lane as Eleanor Mason, the cold stepmother of Bree Van De Kamp (Marcia Cross). Her arrival is tentatively scheduled to air April 9 (9 p.m. ET/PT).

Just when you thought Bree didn't have enough problems, her stepmom (Carol Burnett) is here to pile on a few more.

"I thought this would be a hoot," says the comedic legend, 72, who starts taping next week. "I'm a soap opera fan. I've watched All My Children for a hundred years, and this, too, is a very campy soap. All these crazy things happen in this one town — just like (Children's) Pine Valley."

For Housewives creator Marc Cherry, it's a casting dream: "I learned how to be funny watching Carol Burnett."

Cherry is writing Eleanor as an evil role to differentiate her from Burnett's characters on her 1967-78 variety series.

"Eleanor took over after Bree's mother was killed when Bree was a child," Cherry says. "She's a very tightly wound, proper lady for whom appearances mean everything. A lot of what Bree has become came from this woman," and their relationship is "polite but strained."

Burnett had but one request for Cherry: "I said, 'I want her to be a little (meaner).' It's more fun to have those villainous takes — like Miss Hannigan," Burnett's wicked role in 1982's Annie movie.

Eleanor comes to town with her husband, Henry, after Bree's son, Andrew, announces his intentions to be emancipated. "Andrew is bringing up all sorts of family secrets, and they want it stopped," Cherry says.

So far, Burnett is scheduled to appear in only one episode, but all parties are open to a return visit next season.

Burnett has been selective about the roles she has chosen since her daughter, Carrie Hamilton, died of cancer four years ago. Burnett's energies have been devoted to raising money for The Carrie Hamilton Theatre (carriehamiltontheatre.com), to be established in a small balcony at the Pasadena Playhouse.

As Housewives' second season winds down, expect new baby drama for Gabrielle and complications in Susan and Karl's secret platonic marriage. And the two-hour season finale, says Cherry, "will be a mixture of current stories and flashbacks on how all the women came to Wisteria Lane." Dead characters will return.

The show also will be giving Alfre Woodard and Mehcad Brooks' characters "a big finale" — allowing next season's mystery to focus on one of the four housewives, who "will end up in a serious relationship with a man who has some pretty dark secrets," Cherry hints.
26 February 2006 - Jesse a big hit
Source : News.com.au

US sex symbol Jesse Metcalfe proved such a hit with Sydney women he needed a team of minders to ward off admirers.

"We love you, Jesse," screamed dozens of female fans, who whistled for the Desperate Housewives hunk when he toured Sydney last week.

At Bondi, he almost caused a mini-riot when he stripped down to his boardshorts to enjoy the sunshine, showing off the six-pack that has become world famous through his role as gardener John Rowlands in the hit Seven Network series.

First stop was lunch on Campbell Parade, then a stroll along the sand taking in the sun ? but not the surf. Despite the summer temperatures, Metcalfe chose to keep his torso dry.

Yesterday, the actor was all dressed up for a day out at Sydney's Rosehill Racecourse.

Metcalfe, 27, spent the afternoon punting on the horses with his new mate, ad man John Singleton and his pregnant wife, Julie.

"He thinks the girls are beautiful," confirmed Mrs Singleton, who admitted she had "no idea" who Metcalfe was when she met him yesterday morning.

"I've never watched the show but he is a lovely kid. A girlfriend said I would know who he was if he took his top off."

Metcalfe, who also appeared at the Desperate and Dateless Ball at Luna Park last night, has been making women swoon since arriving in Sydney on Wednesday.

"The women just keep going wild," boasted his minder Todd Tanguay, "and he is always finding romance."

Singleton's actress daughter, Sally, was the most envied woman in Sydney on Friday night when she took him on an impromptu tour of fashionable nightspots.

Yesterday Metcalfe visited Singleton's farm on the central coast, where he checked out the wildlife.

He was due to leave Sydney this morning.
24 February 2006 - Four versions of Housewives made
Source : BBC News

Four new versions of hit US series Desperate Housewives are being made for Latin American audiences, each with its own cast and cultural references.

Spanish versions will be broadcast in Argentina, Colombia and Ecuador, with a Portuguese version shown in Brazil.

Each version will be filmed on one set in Buenos Aires, Argentina, and will follow the format of the US original.

Producer Buena Vista International aims to broadcast the first episodes in Argentina this summer.

Switch profession

Fernando Barbosa, senior vice president of its Latin America division, said the new versions of Desperate Housewives would resemble telenovelas - a traditional Spanish and Portuguese TV serial format.

Each version will be adapted to reflect its culture of its audience.

"In the US version there's a plumber (actor James Denton) in that neighbourhood," Mr Barbosa explained.

"In Latin America, a plumber is very unlikely to live in such type of neighbourhood, so we'll have to switch that profession."

The Hispanic couple played in the US version by Eva Longoria and Ricardo Antonio Chavira will reflect permanent immigrants in each community.

In the Colombian version, for example, the couple will be from Ecuador.

Actresses have already been cast in the Argentine version, with Araceli Gonzalez playing Gabriela (Gabrielle in the US version), Gabriela Toscano as Susana (Susan), Carola Reyna as Elisa (Bree) and Mercedes Moran as Lia (Lynette).

The first episode of the second series of Desperate Housewives topped the US ratings last September, drawing 28.2 million viewers.

It was named best TV comedy for the second year running at the Golden Globes but its four lead stars of were beaten to the TV comedy actress prize by Weeds star Mary Louise Parker.
23 February 2006 - Denton Reprises 'Dr. Hunky' Role
Source : Zap2It

Before being cast as T-shirt-wearing plumber Mike Delfino, the on-again/off-again love interest of flaky Susan Mayer (Teri Hatcher), on ABC's Sunday-night smash "Desperate Housewives," Denton was stalwart government agent John Kilmer on ABC's short-lived espionage thriller "Threat Matrix."

"That's what's so funny," Denton says, "nobody ever, one time, referred to John Kilmer as even remotely attractive, let alone hunky or sexy. Then, you know, literally three months later, I'm hunky.

"I honestly believe this -- convincing America that Teri Hatcher is interested in you makes you more attractive. If our writers can sell America that Teri Hatcher thinks I'm hot, it makes people look at you differently. I believe that's a lot of it."

About the same time Denton was preparing to be host of the ultimately very successful Miss America pageant broadcast on CMT (Country Music Television) -- part of a production deal the Nashville native has with the cablenet -- he was having some fun with that "hunk" persona on another show.

After doing one episode of The WB's "Reba" last year, as Dr. Jack Morgan, Denton reprises that role in the Friday, Feb. 24, episode, called "The Trouble With Dr. Hunky."

Directed by series star Christopher Rich, it features Morgan returning to Houston to rekindle his romance with Reba (Reba McEntire). But when it's revealed that he's technically still married, the shock sends Reba back to ex-husband Brock (Rich) for advice.

"The show-runner over there, Kevin Abbott," Denton says, "cast me as the lead in a pilot years ago, that didn't go, so I'm forever indebted. So I went over there last year, fell in love with Reba like everybody else. The cast is so funny. It's the best show on TV people aren't watching.

"We did lots of smooching last time, and more this time. It's a good job. It's fun."

Asked how his wife feels about all this, Denton says, "My wife just rolls her eyes and says, 'Bring the check home.' Baby needs shoes. She's a good sport about it."

And you can just about bet that when Denton arrived on the "Reba" set, he knew his lines backward and forward.

"When I was on 'Threat Matrix,'" he says, "as the so-called lead, I saw a lot of guest stars come and go, and I was appalled how many of them showed up as guests on a show, completely unprepared, un-memorized, and dragged us down. I would be mortified if I were a guest star and didn't come in more prepared than the regulars. They have one day of work.".

While Denton believes America took some convincing to accept him as a hunk on "Desperate Housewives" -- and on "Reba" -- he feels that the basic character of Delfino fits like a glove.

"I do almost nothing," he says. "Mike is so close to me. He's a blue-collar guy with a dog and a pickup truck. How much can I stretch?"
16 February 2006 - 'Anatomy' sneaks up on 'Housewives'
Source : USA Today

Boosted by a Super Bowl launch pad and a bazooka-bomb-in-the-belly plotline, Grey's Anatomy has rocketed into record ratings and much more intense attention. And it has done so without straying from its chosen path: The deft blend of comedy, drama, sex and romance has turned this show into one of the most enticing hours on TV.

Grey's heightened success could not come at a better time for ABC; the network's biggest hit, the once-white-hot Desperate Housewives is showing signs of cooling. We shouldn't read too much into last week's ratings, which found Grey's on top of Housewives for the first time: Housewives is still a vastly popular show, and deservedly so. But there's no doubt that the buzz is off the rose, which is what generally happens to an instant phenomenon.

It's possible, of course, that many of the folks who were hooked into Grey's Super Bowl special will now go on their way. Those who return Sunday, however, will be treated to an incredibly appealing episode that is more in tune with the show's low-key norm.

Odds are, thanks to the promo, Grey's most sharp-sighted fans have figured out some of what happens. But in deference to those who haven't, and to creator Shonda Rhimes' admirable attempts to keep her secrets intact, I won't give away any plot points.

At any rate, the impact of events on Grey's isn't always immediately evident. So let's just say that major secrets are revealed as some desires are fulfilled and others are frustrated. Love isn't always smart on Grey's and it isn't always enough, as much as we might wish it were.

The real constant on this show is the warm embrace in which it envelops its characters: Burke (Isaiah Washington, who is pretty McDreamy himself), who is so perplexed by his love for Cristina (Sandra Oh); George (T.R. Knight), the quintessential nice guy who can't get the nice girl to notice him; Izzie (Katherine Heigl), who is drawn to Alex (Justin Chambers); and our beloved Bailey (Chandra Wilson), whose role this week is mostly a baby-carrying cameo.

At the center is TV's most complex and convincing romantic triangle as Derek (Patrick Dempsey) tries to find his way between his love for Meredith (Ellen Pompeo) and his obligation to Addison (Kate Walsh). It's a tribute to all three actors that each side seems equal and that each can make a valid claim on our sympathy while equally taxing our patience.

In the end, that rooting interest is what separates Grey's from Housewives. It's easier to believe in Grey's characters and to care what happens to them. To its fans' relief, Housewives has overcome an awful seasonal start and turned back into an entertaining, over-the-top camp romp. But the problem with romps is that they can become tiring.

There's no question that Housewives lost something essential when it let go of last year's central mystery, the suicide of a suburban mother. That plot allowed the show to tap into a zeitgeist angst that has eluded it so far this year, as it wanders between unconnected plots and unbelievable incidents.

Still, though it has faltered a bit, Housewives is still big and brassy and fun. Grey's is a softer, smaller show with a very different feminine energy — one that is just as sexual and competitive but far more nurturing. Last week, Grey's compared the male fantasy of a ladies-shower-a-trois with the female reality. Housewives exists in a colorful, bangle-beaded world of its own beyond fantasy and reality.

That can be a nice place to visit, but in the long run, you might rather live with Grey's. The occasional bomb notwithstanding.
10 February 2006 - Are 'Housewives' Showing Signs Of Sanity ?
Source : Access Hollywood

When "Desperate Housewives" premiered in 2004, it surprised viewers by depicting a species rarely seen on network television: seriously hot women old enough to be Hilary Duff's mother.

As their second season progresses, the women of Wisteria Lane still sport flawless hair, lingerie-worthy abs and a killer sense of casual chic. And with the exception of the soon-to-implode Bree Van de Kamp, they've lately been developing signs of an even sexier attribute: the ability to cope with life.

Granted, we've watched these women make plenty of questionable moves since the show began, and for the most part they still do. That's part of the fun. We look to the show for entertainment, not life lessons. "It's not titled 'Competent Housewives,'" Syracuse University media professor Robert Thompson points out.

But for much of this season's first half, their lives of quiet desperation were morphing into lives of constant panic. Even the smallest challenge was met with an off-the-charts reaction -- Lynette releasing a rat in the kitchen to get her husband to clean the dishes, for one. And Lynette is supposedly the levelheaded one.

Like the women of "Sex and the City" in their final seasons or Bridget Jones in "The Edge of Reason," they'd begun crossing the line from being women who occasionally did ridiculous things to becoming ridiculous women. At some point, that's more annoying than endearing.

The "Desperate" ladies were designed as something of a parody. But we saw just enough real, recognizable behavior in the first season to keep us rooting for them. This season, the parody seemed to be taking over; the episodes were becoming as cartoonish as the opening credits.

So it's refreshing to see the recent occasional flash of logic: Whether or not viewers thought Lynette should worry about Gabrielle and Tom's kiss, they were probably surprised to see her address it directly rather than hatching another nonsensical plot. And Susan, queen of the harebrained decision, simply told Dr. Ron she'd prefer a more experienced surgeon rather than orchestrating some disastrously elaborate dodge.

Of course, a day later, she told him off without realizing he'd already apologized. But that impulsiveness -- in measured doses -- is part of her charm. Marilyn Kentz, co-author of "Not Your Mother's Midlife" and "Fearless Women," calls that impulsiveness "the Lucy effect."

"These women are a modern-day Lucy and Ethel and their neighbors," Kentz says. "You know, 'Oh dear! It's a caper!'"

Unfortunately, the manic zaniness that works on a half-hour sitcom can get tiresome in an hour-long dramedy -- especially one that deals with death and family strife so unblinkingly.

When television's most popular 40-something female characters regress into such retro territory, does it harm the status of real 40-something women? Probably not, says Thompson. After three decades of independent, capable characters like Mary Richards ("The Mary Tyler Moore Show"), Ann Romano ("One Day at a Time"), Alice Hyatt ("Alice") and Murphy Brown, the TV landscape has room for everything, he points out.

And maybe it's cyclical. Mary Richards paved the way for Murphy Brown, and just as Murphy was ending her prime-time reign in 1998, America fell for Ally McBeal. Ally, who rarely got through a day without melting down, heralded the return of ditzy female characters like Susan. Can't you picture Ally and Susan _ especially the Susan of this season's earlier episodes -- in a support group for supposedly intelligent but nonetheless inept women with a knack for repeatedly sabotaging themselves? They'd have a lot to share.

Perhaps as an antidote, ABC follows up "Desperate Housewives" on Sunday nights with "Grey's Anatomy," a show whose female characters are anything but incompetent. These women save lives on three hours' sleep, often without smudging their lip gloss. They may not be happy, but they know how to handle a crisis. Often, they react more decisively than the men around them.

Another thing sets "Grey's" apart from its lead-in: Its female doctors are well-rounded characters, not comic-book stereotypes.

Of course, no one's looking for two solid hours of angst-ridden doctors in love. But it's nice to see a bit of intelligent thought coming from the hot housewives. Perhaps the steely-eyed calm of Wisteria Lane's newest resident, Alfre Woodard's Betty Applewhite, is having an impact on her neighbors.
3 February 2006 - Nicollette & Michael: The Second Time Around
Source : ETOnline

Love is better the second time around for "Desperate Housewives" star NICOLLETTE SHERIDAN and Grammy Award winner MICHAEL BOLTON, who have rekindled their romance in the past couple of months, and gone public with appearances together at both the Golden Globe Awards and the SAG Awards. Tonight, ET's MARY HART has the first-ever interview with the reunited couple.

The affair of the heart comes just in time to serve as inspiration for Michael, who is recording some of the most romantic music of his career on his upcoming CD, Bolton Swings Sinatra, a collection of songs that previously were recorded by FRANK SINATRA. The album is scheduled for release in May.

"It's good to be inspired, isn't it?" Michael poses the question. "You just give it back ... into the microphone. Players play better; people feel more."

Nicollette has served as more than Michael's muse on the new recording project; she has also given him some very practical advice.

"I was trying to narrow it down to two final songs from 15," Michael explains. "I played one for Nicollette on a drive through the desert. She looked at me, I thought maybe she didn't like it, and she said, 'What are you even thinking about? This is a no brainer. You have to record this song.' I said, 'Really?' I put it back and listened to it again."

Michael says he has been looking at the Sinatra songs for years, but held off recording any as he was enjoying his success as a songwriter. But now the time is right. And he has done his homework, not only listening to the Chairman of the Board sing and swing, but also watching Ol' Blue Eyes' performances on DVD.

"He was a storyteller," Michael says. "There was a lot of background that makes Frank Sinatra such a powerful icon. We all know the strong character that Frank Sinatra was, but the more music of his that you listen to, the more you sense the vulnerable artist that he was."

And in a funny coincidence, Nicollette has been voicing a role for an animated film, the title of which is the same as an old Sinatra tune: "Fly Me to the Moon!"
3 February 2006 - Housewives' Woodard Tries Something New
Source : Tv Guide

In the romantic comedy Something New, in theaters today, Sanaa Lathan plays an upwardly mobile African American who, despite cries of foul from friends and family, finds herself falling in love with Simon Baker's hunky landscaper. Helping the conflicted miss sort through her feelings is Desperate Housewives' Alfre Woodard, playing mom to Lathan — as she did in Love & Basketball. TVGuide.com spoke with Woodard about Something New's important message, the certain something she brings to the table, and, of course, life on Wisteria Lane.

TVGuide.com: Just recently, I interviewed your Something New son, Donald Faison, aka the new president of the Alfre Woodard fan club.
Alfre Woodard: Really? Oh, wow... Donald is wonderful.

TVGuide.com: He and I talked about how you do so much with your line readings, how you can scare the bejesus out of [people] without once raising your voice.
Woodard: [Laughs] Tell that to my children!

TVGuide.com: You're on Housewives, of course, and this month you have a TV-movie [Jan. 29's The Water Is Wide] and Something New. When it rains, it pours, eh?
Woodard: Yes, there's always at least a "steady drizzle," for which I'm always grateful. [Laughs]

TVGuide.com: Are you sure don't have a Broadway show premiering, too?
Woodard: No, but I do have Take the Lead coming out in a month and a half.

TVGuide.com: In prepping for this Q&A, I just watched the trailer for that. It looks interesting — Antonio Banderas teaching inner-city kids to ballroom dance.
Woodard: Oh, it's such a good movie.

TVGuide.com: From what I could glean, you're the "stern principal who insists every step of the way that 'it will never work.'"
Woodard: Of course I am! I'm obviously not the ballroom dancer.

TVGuide.com: Something New should do well itself. There's been nothing like it in a while, for certain.
Woodard: I don't think there's been anything done like it ever, actually. [Films like this have] never been about the couple themselves, they've been about people's reactions. So I think it's new in the sense that it's finally about the decision people make to be together, how people choose whom to be with.

TVGuide.com: It could get some good discussion going.
Woodard: I think it should. It elevates the discussion to a level it should be at, instead of constantly being, "If you don't believe in interracial relationships, don't be in one." What the movie does so well is it shows how people fall in love, no matter who they are. We actually see adults fall in to love on screen, and that rarely happens. The question of the movie is, "Will the protagonist let herself live? Will she let herself release the restrictions that she has on what the person she dates should look like, how she wears her hair, how she feels about her job...?"

TVGuide.com: Isn't the interracial-dating debate one that should have been retired years, if not decades, ago?
Woodard: Well, I think it has been in a lot of people's lives. But the film industry is one of the last bastions of retro thinking that we have. The interesting thing that happens in this picture is unless it's your children, you think you're fine with things. "Oh, it's fine." But if it's your children, let's see what you say about that.

TVGuide.com: This is your second time playing Sanaa Lathan's mother....
Woodard: It's intentional. I love her work, and I love working with her. I could never pass it up. She's a very skillful, conscious and emotionally available actor. She's wonderful.

TVGuide.com: Could she be on the verge of a Halle Berry-type breakout?
Woodard: You know... Sanaa's a real actor, and whether Hollywood embraces her to the point where she gets to do all of the stuff that Cameron Diaz and all those gals, do, that's on them. Halle Berry... I don't want to comment on her career, but we can't judge progress by it because it's a very particular type of career. Sanaa has already been doing for a while the quality of work that she does — and she will continue to do it, whether Hollywood takes notice or not. Hollywood is very fickle and nearsighted.

TVGuide.com: Can you give me the Reader's Digest version on the whole Inconceivable-Housewives mix-up, which found you leaving NBC for ABC?
Woodard: [Inconceivable executive producer] Mike Tollin, whom I've worked for before, said, "I've got a project with a little role in it, but it'd be so great if you wanted to do it." I read it and said, "I think it's a great idea but I don't want to be this character for six years." He said, "Well, what if you just came and shot the pilot?" So I did that, and while I was shooting the pilot, I was asked if I wanted to join the cast of [Desperate Housewives]. I had never seen that show, but after they sent me a bunch of tapes, I said, "Yes, I'd like to do it," because it broke form, it was a sort of high-wire act, and I like to be in that kind of situation. Meanwhile, Inconceivable got picked up and, well, I guess the network was never told that I was only signed on for the pilot. But that was the truth.

TVGuide.com: Are you glad that Housewives is finally integrating Betty? As I once said in my news column, it was kind of conspicuous that it took so long.
Woodard: You should ask [series creator Marc] Cherry and [writer Tom] Spezialy about that. [Laughs] Ask them about that.

TVGuide.com: But it has gotten better — Betty's been interacting with Bree, they realized just how much they have in common in the last episode....
Woodard: Yeah, after that hussy turned on me, the liaison between our children gave me a trump card — and I literally threw it on the poker table!

TVGuide.com: Will Betty ever form true friendships with the others, or do you think she'll always be guarded?
Woodard: I don't know, because our family sort of serves the purpose that Mary Alice's did [in Season 1]. If you look at it, with each family the story line is kind of in a different style, and we took up the style that was dark-gothic and sort of scary-funny. The Applewhites are still kind of on the margins.

TVGuide.com: Which Housewives guy would you hook Betty up with?
Woodard: I don't know. I think there are lots of great stories with any of them!

TVGuide.com: As I hinted earlier, you're never really wanting for work. Why do you think that is? What special something are you bringing to the table?
Woodard: The thing I bring to the table is... I think that I think past the obvious. When people want the obvious, they never ask me. It's usually people who themselves think past the obvious that come to ask me to work; the regular people don't. The standard Hollywood film and television community — producers and directors — do not ask me to work. They never have. They might like to say, "Oh, Alfre Woodard, isn't she good?" But they have never in my 30-year career asked me to work for them, and they still don't. I don't get a lot of offers; it just so happens that the ones I get are from interesting-thinking people. People think of me as mainstream and that is just so not true. [Housewives] is actually the first mainstream thing I have ever done, but again, look at Marc Cherry. He is not an obvious thinker.

TVGuide.com: Of all the interesting roles you have played, which are you most proud to have filled?
Woodard: Hmm, "proud"... hmm. Let me just tell you this: I was so grateful to be able to be on set with Marty Ritt as my director and John Alonzo as a DP [on 1983's Cross Creek]. I was so grateful to have been able to work with Spike [Lee on 1994's Crooklyn]. I have had the great fortune to spend time with real film auteurs. I didn't get the big blow-up, larger-than-life megacelebrity, and my bank account is not 5 miles deep, but I have the good fortune that the people I have spent time with in this business have been people that history will write about.
27 January 2006 - Eva Longoria Sets the Record Straight
Source : Tv Guide

When Eva Longoria arrived at ABC's winter press-tour party at the Wind Tunnel in Pasadena, Calif., TVGuide.com cozied up to the Desperate Housewives star, who was more than happy to speak on a variety of topics, including the casting of her TV mom, her romance with San Antonio Spurs star Tony Parker and, yes, that much-publicized Vanity Fair cover shoot.

First up: "I'm thrilled," the brunette beauty enthuses of Chasing Papi's Maria Conchita Alonso being hired as her Housewives mami, first appearing in the Feb. 19 episode. "We're going to learn [through Lucia] why Gaby is the way that she is."

While the popular prime-time soap had a blockbuster premiere season, some critics are claiming that the Housewives are in a bit of a sophomore slump — an assertion Longoria debates. "[Creator-executive producer] Marc Cherry is really good at moving the story along," she notes. "I would hate it if three seasons from now, we were still trying to figure out why Mary Alice committed suicide. Our season finale answered every question." As a result, Cherry spent a few episodes in Season 2 laying the groundwork for new stories. "Perhaps those first few episodes seemed slow because we were planting new story lines, and that takes time. But our ratings [are] higher than last year's."

Speaking of last year, Longoria is still being asked about the infamous Vanity Fair cover shoot and the subsequent media frenzy that followed it. Readers of that mag were led to believe that the ladies of Wisteria Lane couldn't pose for a group shot without squabbling over who got to wear red and who deserved the coveted middle position. "People try to position us against each other," Longoria shrugs. "It's amazing." Ironically, the actress says that the unique celebrity that the women share is exactly what binds them together. "Nobody — not even my dearest friends — want to hear [me] complain about how hard the life [of a celebrity is]. But I can tell Marcia [Cross, Bree]. I can call Felicity [Huffman, Lynette] and say, 'You know what really sucked today...?' And they understand. We are the only people to whom we can really talk."

Indeed, if the ladies didn't have a sense of humor about that shoot, it's likely that Longoria wouldn't have been allowed back on-set after she spoofed the incident as host of the Jan. 7 Saturday Night Live. "Being on that was so much fun," says the lifelong fan of the long-running sketch show. "It was a lot of work, but I love live theater and I am used to comedy. The girls [from Housewives] were really supportive of my doing it. They called me every day.

"Hosting [SNL] was a dream for me," she smiles. "I can die now."

Despite her love of performing live, Longoria says that she'll be concentrating on films, not theater roles, when Housewives goes on hiatus this spring. Already in the can from previous breaks: the thriller The Sentinel, with Michael Douglas and Kiefer Sutherland.

Longoria first tasted what it's like to have legions of fans when she appeared as con woman Isabella Brana on The Young and the Restless, but not even playing a knife-wielding psycho on daytime's No. 1 soap prepared her for the popularity level she now enjoys. "I don't think you can ever get used to this," she philosophizes. "It's always going to be a bit weird for me — people wanting to talk to me and knowing certain things [about me.]"

And how. Longoria often makes headlines over her love life — especially when she forgets to remove that flashy rock that Carlos bought for Gaby. "It's caused controversy," admits the actress, who has gotten tabloids' tongues wagging by accidentally going out in public with the sparkler. "I'll hear, 'Tony and Eva are engaged!' I'm like, where are they getting that? And then I'll see a picture of [me wearing Gaby's] ring." Longoria laughs. "I told Tony that he's going to have to buy me the same ring just so I can leave it on all the time!"

Hmm, has Longoria given her beau a particular time frame on that? (Hey, she brought it up!) "No," she chuckles. "I don't care if it's tomorrow or 10 years from now. I am so happy."

Although Longoria and her fellow Housewives run the risk of being overexposed, she feels it's better to be out there too much than not at all. "I've been on shows where the lead actors don't [do press] and the show doesn't [end up succeeding]," she points out. "The girls and I said from Day 1 that we would work hard to support the show."

All eyes were on Longoria when she showed up at the press-tour gala straight from work, decked out in one of Gaby's sexy ensembles. But given her druthers, the recent Golden Globe nominee prefers to leave her selfish but oh-so-lovable persona behind at the end of the day.

"Gaby's very high-maintenance," notes Longoria, who even borrowed a pair of her character's high heels for the party. "I get exhausted playing her! I'd much rather be wearing my Uggs right now."
19 January 2006 - Alonso to appear on 'Desperate Housewives'
Source : USA Today

In an episode tentatively scheduled for Feb. 19 on ABC, Alonso will play Lucia, who drops in on her daughter after leaving the latest in a string of husbands, the network said.

Gabrielle is played by Eva Longoria.

Lucia has been referred to previously by Gabrielle — and not in the most loving way — but hasn't been seen until now.

"She's extremely ecstatic and she loves the role," said Alonso's publicist, Rona Menashe. "She watches the show and loves it."

Alonso, who's filming the episode this week, made her U.S. movie debut in Moscow on the Hudson in 1984, playing opposite Robin Williams. Her other films include The House of the Spirits and Chasing Papi, and she has appeared on stage and in TV series including Kingpin.

The Cuban-born Alonso, who was raised in Venezuela and was a beauty pageant winner, also is a Grammy Award-nominated singer.
19 January 2006 - TV's Twisted Sister Reveals 'Desperate' Secrets
Source : Extra TV

Sexy Eva Longoria isn't pulling any punches on Wisteria Lane Sunday night in what may be the most delicious catfight since Krystle knocked down Alexis on "Dynasty." But before Gabrielle battles it out with sinful sister Mary, played by Melinda Page Hamilton, "Extra" sat down with the less than heavenly nun for an exclusive interview.

Although Mrs. Solis attempts to stop Sister Mary's divine intervention with Carlos on Sunday, Hamilton told us, "I'm not going after his body. I'm going after his soul!"

"I felt terrible because we shot in a church," Longoria chimed in. "And we fight on the altar."

So what does Sister Mary have that Gabrielle doesn't? Hamilton revealed, "She's fast, but I've got strength, and I've got God!"

Fans will have to wait until Sunday night's show to see who wins, but one thing that Hamilton most definitely has is a new film called "Stay," which is competing at the Sundance Film Festival. In the movie, she plays another character who is no saint.

"There's a little episode in her sexual past that she hasn't come to terms with," Hamilton revealed.

In the meantime, whether she wins or loses primetime's big fight, she has only praise for her "Desperate" opponent. "I have a little crush on Eva!" Hamilton admitted. "She's just so cute!"
15 January 2006 - Felicity Huffman Has Arrived
Source : CBS News

Felicity. The word means happiness. For the actress Felicity Huffman, it would seem to be the perfect name right now. She has a hit TV show, "Desperate Housewives." And she stars in a new movie that is generating Oscar talk in which she plays a man determined to be a woman. But, like most actors, Felicity Huffman remembers the unfelicitous years of struggle and unemployment. And she tells 60 Minutes correspondent Lesley Stahl she is amazed at how things have changed.

Until recently, Huffman says she wasn't recognized as a television star, but that has changed. "The last month people have recognized me, month and a half," Huffman says.

Does she like it? "It doesn't happen that often," she says. When asked if she can still do an every-day task like grocery shopping, she says "Oh, God, totally."

"At the same time, I was in Barney's and someone came and tapped me on the shoulder and I was like, 'Here it comes.' And I turned around. She goes, 'Could you tell me where the gloves and scarves are, please?' " Huffman recalls, laughing. "And I thought, 'At least I look like I work at Barney's. I'm lookin' good.'"

At 43, Felicity Huffman finds her career finally looking good. She won an Emmy for "Desperate Housewives" last September. She also garnered two Golden Globe nominations last month: one for "Housewives" and one for her movie "Transamerica."

It's the story of a man, Stanley, who's in the process of becoming a woman, Bree, through a sex change operation.

It's a role Huffman tackles with great humanity. She studied for the part by going to conventions of trans-gendered people. And, as they often do, she took voice lessons.

"The hormones don't change your voice," Huffman explains. "When you take estrogen … it doesn't raise your voice. I mean, you can look like Kate Moss and sound like James Earl Jones."

She learned everything she could about the sex change process.

"I learned femininity like a foreign language. You know, it's not this, it's not this kind of walk," she says, demonstrating how a guy walks.

And how does a guy learn to walk like a woman?

"You learn, well, what should I do with my shoulders? Well, hold them back. What do I with my arms? Well, suck them in so they don't look big. And, so, you walk like that," Huffman says, showing how her character, Bree, walks.

All the praise she has been getting for "Transamerica" is sweet vindication for someone who spent a long time as a desperate actress.

In the years before "Desperate Housewives," Huffman was in a lot of TV shows, that she says "died young."

"Great shows that we shot and never went anywhere. So I thought that that was sort of, that I was the … that I was the cursed one," she says.

She starred in "Sports Night," a great show that never found a big audience. Over the years she had cameo roles on, among others, "Law & Order," and "Frasier."

She was never out of work for long, but she was never quite a star, either — until "Housewives" came along.

Huffman admits she was insecure about the show. "I thought I was going to get fired. I really did."

But from the very first episode, Huffman's character Lynette Scavo — with her painful authenticity — touched a nerve with desperate housewives around the country. Her character is at her wit's end dealing with bratty kids and a horny husband.

Lynette's defining moment came when she waded into the pool — at a memorial service, no less — to get the kids out.

"I think Lynette's experience of motherhood parallels my experience of motherhood," says Huffman.

In real life, she admits she is a harried mother.

"Oh, yeah, I'm out of control. I spent yesterday out of control. I spent last night out of control," she says.

Showing 60 Minutes around Wisteria Lane, she may have looked as sunny as her California sundress but the day before had been a long one on the set, followed by a restless night with two cranky kids.

"I have to talk to you today, and I'm gonna be stupid and tired," she says, laughing. "And look old!"

Talking about insecurity, Huffman says she doesn't think she is beautiful. "I'm not sorta, going, you know, 'Poor me,' or being self-deprecating. I think my face is fine," she says. "I mean I like my face and it's done me well, so far, my face. But, you know, I'm not a beauty."

Of course, the bar's pretty high when you work an eyelash away from the likes of Teri Hatcher, Marcia Cross, Eva Longoria and Nicollette Sheridan.

What does Huffman make of everybody assuming that the cast members are going to be in a cat fight all the time?

"You know, they've been saying we were gonna fight since before we started airing," Huffman says. "We'd always open up the rags and go, 'Oh, look, Teri, I'm not talking to you. And Eva's drunk.' "

Huffman denies there is tension among the cast.

"No. The days that we all shoot together are the funnest days on set. Um, I don't think funnest is a word, but if there were, I would use it," she says. "No, it's a wonderful group. Everyone, most of us have been around the block a couple of times, so we're very grateful. We're professionals. We work hard."

On sisterhood, she's an expert. Felicity, "Flicka," as the family calls her, grew up in Woody Creek, Colo. She was the youngest of eight children. Seven sisters and a brother.

"By the time I came along my mom was so tired," Huffman says, laughing. "Eight children. I mean, I'm losing my mind with two."

Huffman says she was a happy child.

"I think I was loud and obnoxious, which is probably why my mother was like, 'I'm gonna send you to acting camp,' " she says, laughing.

She was barely out of acting camp when she got her first paying job on a TV after-school special. Flicka was 15.

Her real training came on the stage in New York, where she fell under the spell of playwright David Mamet. Today, she's still a key member of Mamet's Atlantic Theater Company.

It was here, 20 years ago, that she met the man she would eventually marry, actor William H. Macy.

"She was a dream girl. She was. I was swept away, literally," Macy says.

Macy knows a thing or two himself about how fame can take its own sweet time.

His breakthrough film was Fargo, which came out when Macy was 45. For 20 years before that, he had knocked around movies, TV and the New York stage, sometimes teaching acting classes to pay the bills.

"Our friend said, 'There's this girl who's gonna be in your class. You're gonna love her. Her name is Flicka Huffman,'" Macy says.

Huffman was his student.

What was Macy like as a teacher?

"He was insightful. Charming. Very empowering. He made you feel like you could do it," Huffman says.

They married eight years ago. At their wedding, Huffman was walked down the aisle by her mother. Her father had died.

"But you know, I wanted my mother to walk me down the aisle," Huffman says. "Um, she really raised me. They got divorced when I was about 1. And my father was a wonderful man, and my mother raised me."

Huffman and Macy have worked together often on TV, in the movies and on the stage.

Are they method actors?

"I think so. I think, yes. Yeah, absolutely. We are," says Macy.

"We are?" Huffman asks.

"Yeah," Macy replies.

"I didn't know that. … You gotta tell me this stuff," Huffman says.

As for her acting in "Transamerica": there's some irony in the fact that body image and the question of what makes us who we are are themes at the heart of the film.

"The first image that you see Felicity in this film is shocking because she is butt ugly," jokes Macy.

In her younger years, Felicity had her own issues with her body. She had an eating disorder, suffering from bulimia.

What was going on?

"Just sort of what's going on with a lot of women and girls that, you know, just can't be thin enough," Huffman says. "Can't be thin enough. Can't be thin enough. Hate my body, hate my body, hate my body. You know?"

But Huffman says she got therapy and "worked it out."

But for her, the movie experience had its darker side too, as she began to relate more and more to her character.

"I think she's excruciatingly self-conscious. I think it's hard for her to wake up in her own skin," says Huffman.

How did she connect with that?

"Oh, come on, I think everyone can connect with that," says Huffman.

"No," Stahl replies.

"Really? You don't think everyone has pain in their lives?" Huffman asks.

"I think everyone has the moments. … But no, I think maybe you connected for some reason, in a deeper way," Stahl says.

"I did," says Huffman. "I mean, I know what it's like to, I know what it's like to wake up and be in agony in your own skin. I do, yeah."

Huffman says she doesn't know why. "It's just the way I am, I don't know."

Huffman has two little girls, but gives a surprising answer when asked if motherhood is the best experience in her life.

"No, no, and I resent that question," Huffman says. "Because I think it puts women in an untenable position, because unless I say to you, 'Oh, Lesley, it's the best thing I've ever done with my whole life,' I'm considered a bad mother. And just when I said no you, you went back."

Does she think she is a good mother?

"I don't know if I'm a good mother," Huffman says.

"You're not there enough or you're not patient enough or …" Stahl says.

"I'm there enough. I don't know if I'm patient enough, though, you know, I don't know if I'm teaching them the right things," says Huffman.

To which her TV character Lynette and millions of real mothers would say: join the club. But as more and more film festival awards pile up for her work in "Transamerica," win or lose the Oscar, she's about to join a more exclusive club of actors who've made it big.

"The fact that the movie's getting this much attention, the fact that you're sitting here talking to me, I'm on 60 Minutes, weird, um … is a win," Huffman says with a chuckle.
4 January 2006 - Teri on DH pay packets
Source : Sky Showbiz

Teri Hatcher has spoken out about claims that she's the highest earning Desperate Housewife.

She has set the record straight in an interview with Marie Claire.

The 41-year-old was angry that a psychologist told US tabloids that Teri was losing weight to be the thinnest housewife on the hit show in order to justify her higher salary.

She hit back: "They should have their licence taken away for commenting on someone's health without them being a patient.

"I don't even know if I earn the most... I make exactly what I made when I signed my initial contract, and I don't know what the other girls get."

She was also keen to blast her image as the diva of the Wisteria Lane set:

"I wasn't anywhere near the top of the list to get this show," she said.

"Either I deserved it or somebody thought I was the weakest person on the planet and if they didn't do something spectacular for me, I'd off myself out of depression!

"I know I will not be hot again soon... I don't know if that means two years or five years, but it lets me enjoy what is happening now to the fullest.

"It also makes me smart about securing a future for me and for my family."

That's everyone told.
29 December 2005 - 'Desperate' Vixen Gets Soft for the Holidays
Source : ExtraTV

Naughty Nicollette Sheridan made nice in New York City, and "Extra" was with the "Desperate" vixen as she struggled with the ribbon cutting at the Crest Premium Whitestrips Photo Booth Extravaganza in the Big Apple.

"It's just wonderful being in New York in this winter wonderland," Sheridan said. "I find New York so magical at Christmastime with the people, the clothes, the snow, it's just exciting. I feel like a child when I'm here at Christmas."

Sheridan's time in New York marked a picture-perfect ending to a year full of ups and downs for the actress. In 2005, Nicollette's engagement to fiancé Niklas Soderblom came to an end.

The "Housewife" also shot her first post-"Desperate" feature in 2005, and "Extra" was on the Vancouver set with Nic and her co-stars Lucy Liu and Cedric the Entertainer.

"'The Cleaner' is a film that one would call a thriller-action-adventure-love story to be likened to 'Gone with the Wind,'" Sheridan told us. "It was a little hectic because I was doing the film in Vancouver and the show in Los Angeles. So I would fly back and forth between both. I didn't have a day off for months."

Look out for "The Cleaner" in 2006, and over on Wisteria Lane, keep your eye on Edie! Newcomer Jay Harrington is set to join the cast as a potential love interest for Susan, but as Nicollette pointed out, "Edie might have to ruin it if it becomes anything serious."

Catch Nicollette Sheridan in action on the year's first all-new "Desperate Housewives," Sunday January 8th on ABC.
28 December 2005 - Eva to Star in Boyfriend's Music Video
Source : ExtraTV

Red hot Eva Longoria is vamping it up like never before, posing as a 1940's pin-up girl for the cover of Glamour Magazine: The UK Edition. Only "Extra's" cameras were rolling as Eva struck one sexy pose after another.

"A lot of times I imagine Tony behind the camera," Longoria admitted. "It works a lot because you know it's hard to be sexy. But if I think of Tony then that's easy."

Speaking of Eva's NBA superstar boyfriend Tony Parker, how about a little "Extra" rumor control…. Is it true that Eva is planning to star in Tony's new music video?

"I am going to be in one of them," she confirmed. "But it's a song he wrote for me."

Next rumor: does Eva have a tattoo that's for Tony's eyes only? "Not true," she told us.

So there you have it -- nothing but the truth from this sexy "Desperate Housewife."
26 December 2005 - Longoria, Parker Stopped By Police
Source : CBS News

San Antonio Spurs guard Tony Parker was cited for impeding traffic and failing to produce a valid Texas driver's license during a traffic stop in which "Desperate Housewives" actress Eva Longoria was his passenger.

The incident happened about 12:45 a.m. Saturday. After seeing a car stopped, a bicycle officer indicated that it was impeding traffic. When the car didn't move, the officer rapped the hood with the palm of his hand, according to a police report.

Parker, who was behind the wheel, questioned why the officer touched the car, and the couple "began screaming in a verbally abusive and demeaning manner," police said. Longoria called the police report "highly inaccurate."

Police say Parker then began to drive away, almost hitting a man standing nearby. After being told to stop and get out of the car, Parker showed police a French driver's license, police said.

The officer who wrote the citations said Parker complained: "This is all the cops do, just mess with people," and that Longoria shouted from the car: "He's just a Mexican bike cop. He only wants your autograph."

Longoria denied making the comment.

"It's a shame that one officer conducted himself in such an inappropriate and disorderly manner. I never made any sort of racial slurs, let alone made any comments about the officer being Mexican, as a Mexican myself," Longoria said through her publicist.
23 December 2005 - The 'Desperate Housewives' En Espanol
Source : ETonline

ET is behind the scenes with the women of "Desperate Housewives," but not TERI HATCHER, MARCIA CROSS, FELICITY HUFFMAN or EVA LONGORIA. Then who? We're in the audio booth with the women who each week dub the hit ABC series into Spanish. The Spanish-language version also airs Sunday nights at 9 p.m. on ABC. Viewers just have to turn their TV sets to the correct audio channel to get the dubbed show.

MARABINA JAIMES, who has been doing voice work for years, is handling the narration that BRENDA STRONG, who plays the late Mary Alice Young, does on the English-language version.

"I thought, 'This is fantastic,'" Marabina tells ET. "Being a Latina, of course, we love our soaps. This is such an incredible show. I thought there is an opportunity to come in and do the ADR [voiceover] on this. I am, 'Hello, where do I sign up? I am ready!' I am really, really happy that I get to do one of the most complicated characters. Boy, she has had an interesting life."

Marabina isn't the only off-screen "Desperate Housewives" star. GABRIELA DEL CARMEN handles the voice of Lynette (Felicity); ANA GRINTA covers Bree (Marcia) and IVETTE GONZALEZ is Gabriella (Eva).

"It is really fun to listen to the show in Spanish," Marabina says. "To see, 'Wow, how did they translate this concept?' I think everybody is doing a great job. There are actual people making sure not only that the concept is correct, but also going through thesauruses to make sure we use the proper words."

"Desperate Housewives" is one of four ABC series, along with "Lost," "George Lopez" and "Freddie," that are simulcast in English and in Spanish in an attempt to garner a larger portion of the audience.
15 December 2005 - 'Housewives' Invade China
Source : Zap2It

How do you say "Wisteria Lane" in Mandarin?

Millions of Chinese viewers will soon find out, as ABC's hit "Desperate Housewives" is set to roll out in the world's most populous nation next week. The show will be dubbed in Mandarin and will debut on the state-run CCTV-8 channel Monday (Dec. 19).

The primetime soap, the No. 2 series on television in this country, has now been sold in more than 200 territories around the world. It has drawn big ratings elsewhere as well, in countries ranging from Germany to Singapore. Local versions of the show are set to begin production in five Latin American countries next year.

"Quality productions with fantastic storytelling transcend culture and language," says Mark Pedowitz, president of Touchstone TV, which produces "Desperate Housewives" for ABC (both are units of Disney). "Fans worldwide relate to these characters."

It's unclear whether CCTV-8 will alter the episodes in any way. The Chinese government keeps tight control of the media and usually shies away from titillating material.

The network will air episodes of "Housewives" in nightly three-hour blocks starting Monday. The entire first season will run in one week.
13 December 2005 - Sheridan Left Out in Golden Globe Bids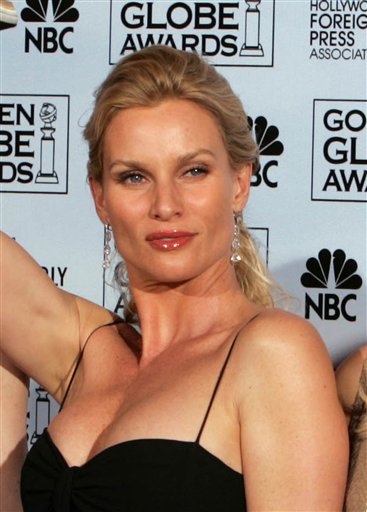 Source : CBS News

The drama on Wisteria Lane is unending, especially when it comes to awards nominations. "Desperate Housewives" actress Nicollette Sheridan was left out when Tuesday's Golden Globe bids were announced, although castmates Teri Hatcher, Marcia Cross, Felicity Huffman and Eva Longoria all received nominations.

The scenario was reminiscent of another "Housewives" omission, when Longoria failed to get either a Globe or Emmy Award nomination after the show made its hit debut last season.

In the previous Golden Globe and Emmy go-around, Cross, Hatcher and Huffman all received best actress bids, while Sheridan was nominated for best supporting actress for the Globes. Huffman won the Emmy, with the Globe trophy going to Hatcher.

In the Globes' odd grouping of entries, Sheridan faced tough competition. While the four "Desperate Housewives" leads competed for best actress in a musical or comedy, Sheridan vied for supporting actress in a broader category that includes series, miniseries and movies.

She was squeezed out by nominees Candice Bergen of "Boston Legal"; Camryn Manheim, "Elvis"; Sandra Oh, "Grey's Anatomy"; Elizabeth Perkins, "Weeds" and Joanne Woodward, "Empire Falls."

It is up to each actress to decide if they want to compete in the lead or supporting category, a spokeswoman for the show said Tuesday. Also overlooked in the supporting category was series newcomer Alfre Woodard.

A call seeking comment from Sheridan, who plays sexy schemer Edie, was not immediately returned Tuesday. Others connected with the show accentuated the positive, which included a best-series bid from the journalists' organization in charge of the Globes.

"What a great ending to a magical year!" Longoria said in a statement. "The nomination is made all the more sweet by the fact that I'm in the company of my dear friends and co-stars."

"Obviously we are excited and thrilled and we so appreciate the Hollywood Foreign Press Association's continued appreciation of our show," series creator and executive producer Marc Cherry said in a statement. "We're looking forward to a great party."

The Golden Globes ceremony is Jan. 16.

"Desperate Housewives" quickly became a water-cooler sensation when it arrived in 2004 and, with "Lost," helped turn around ABC's fortunes. Although some critics have complained the suburban satire has lost its spark, it was the top-rated show in its last airing and clearly still holds sway with the Globes.
12 December 2005 - 'Housewives' Star Wants to Swap Spouses
Source : Zap2It

"Desperate Housewives" wants to get into the wife-swapping action.

Show creator/executive producer Marc Cherry had the brainstorm to bring in Doug Savant and Felicity Huffman's real-life spouses to make guest appearances on the show. On the ABC series, Savant and Huffman play Tom and Lynette Scavo, the parents of a passel of rambunctious boys.

"Marc Cherry wants Felicity and I to go out with another couple, and that couple would be Bill Macy and Laura Leighton, Felicity's husband and my wife," Savant reveals to "Extra" at a Los Angeles Ronald McDonald House. "We'll have to wait and see ... it would be a blast."

Although the special double date has yet to be set, Savant lets slip another surprise that has already been shot in which he has an intimate moment another housewife.

"When we come back on the air ... Eva Longoria is kissing me," says the actor. "I had a 'hellacious' day on the set with just hours and hours of Eva Longoria kissing and kissing me. It's terrible for me. Then, I've got to go home to Laura -- just terrible!"

Huffman's husband William H. Macy is an Oscar- and Emmy-nominated actor who's appeared on "ER" and in numerous TV movies as well as starring in "Fargo," "Pleasantville" and "Seabiscuit" on the big screen. Savant's wife Leighton is best known for playing Sydney Andrews on "Melrose Place," a recurring character on "Beverly Hills, 90210" and opposite Tim Daly on the short-lived ABC drama "Eyes."
9 December 2005 - Is Eva Pregnant? The 'Housewife' Tackles the Rumors
Source : ExtraTV

She's the newest kid on the L'Oreal block, and only "Extra" was invited to join Eva Longoria and the other famous faces of L'Oreal Paris as the cosmetics giant joined Harper's Bazaar's for a star-studded silent auction to benefit ovarian cancer research.

"It's so important for an organization as big as L'Oreal to back something as important as ovarian cancer because a lot of women are affected by it," Longoria said.

Eva was joined by a bevy of Hollywood beauties including fellow "Desperate" diva Marcia Cross, who sparked an impromptu Melrose Place reunion with her former co-stars Heather Locklear and Kelly Rutherford.

Cross revealed she was at the event for two reasons. "I've supported breast cancer," she said. "So I feel like women's cancers are something that I've kind of focused on. Also, of course, because of Eva."

Longoria's NBA superstar boyfriend Tony Parker couldn't make the event, but he was there in spirit and bling. "You can't miss this gorgeous thing," Eva showed us. "That's Tony's San Antonio Spurs championship ring on a pendant."

Speaking of Tony, Eva took a minute to do some "Extra" rumor control. First up, is she pregnant?

"No, I'm not pregnant," Longoria said. "And I'm not married, and I'm not engaged. I've heard all these rumors this week. My mom, she was like, 'Well it was on CNN so it must be true.'"

As for life on Wisteria Lane, Eva clued us in on the future of the nun who is causing quite a stir in Gabrielle's marriage. "It lasts for about four or five episodes," she said. "We're shooting the finale of this thing Monday, and they were like, 'We need to fit you for a flame retardant outfit,' and then they were like, 'We need to fit you for a waterproof outfit.' She's going down. I'm going to kick her butt."
1 December 2005 - Prescription Expires for Housewives Star
Source : TV Guide

On last Sunday's Desperate Housewives, George overestimated Bree's desire to see him stay alive, and instead ODed on sleeping pills chased with booze. Did the funny pharmacist's portrayer see the end coming? TVGuide.com got a hold of Roger Bart to talk about that most curious George as well as his forthcoming — and very "swishy" — turn in the film remake of The Producers.

TVGuide.com: Coincidentally, I just rushed back from interviewing Felicity Huffman.
Roger Bart: Oh, you did? For Transamerica? I hear she's brilliant. She plays what?

TVGuide.com: A pre-op transsexual.
Bart: You know, I was up for that!

TVGuide.com: No you weren't!
Bart: But I hear she's amazing. She's so nice, isn't she? I love her. One of the reasons I would have loved to have hung around [Housewives] a little bit longer was to do scenes with her.

TVGuide.com: Yeah, I was going to say that you "only" got to work with Marcia Cross, really.
Bart: Oh yeah, pretty exclusively. It would have been great [to act opposite the others]. I also like working with guys, too, so that would have let me work with Nicollette [Sheridan]! [Laughs]

TVGuide.com: Going in, did you figure, "I'm playing a slightly creepy and weaselly pharmacist, so my days are numbered"?
Bart: Yes, I did, but I had hoped it would last longer, obviously. It was kind of an interesting opportunity. In the very first episode he was written sort of Eddie Haskell-y, sort of Leave It to Beaver. "You look so lovely today!" It was so funny, I thought, "Where is this going?" I shot about two scenes and [series creator] Mark Cherry said, "Do you know where he's going?" and I said, "No, but I'd love to know." He said, "Well, he's going to stalk Bree." I thought, "Well, that's kind of fantastic." And it seemed after the few episodes were over — I was originally hired for three — it seemed rather incomplete, I hadn't really gotten into any stalking, I was just staring at the drugstore surveillance tape, which was indeed very creepy. But once I knew I was going to really stalk her, I started to layer in a certain oddness. I find that, as someone who has come out the stage door many times, on [Broadway's] The Producers and in other projects where you're face-to-face with the more exuberant fans, you often find that the edgy ones are one breath away from being very angry at you. They love you so much they hate you. A stalker has that mix of adoration and anger and hate, and I thought that was an interesting balance to play with, kind of like Eddie Haskell meets Tony Perkins meets De Niro in King of Comedy. I used to play it that George loved Bree so much that he hated her, and after about six episodes I found that I had made myself, to some extent, indispensable. As soon as I started to provide "Rexie" with pills, I knew that we were going to have to conclude it.

TVGuide.com: Right, they'd have to bring his story full circle.
Bart: This show is called Desperate Housewives, it is not called "Desperate Pharmacists" — although I very much look forward to my spin-off called "The Funny Pharmacist," which reeks of being a hit.

TVGuide.com: Did you have a favorite episode or scene?
Bart: There were a bunch, man. I really enjoyed the scene where George told the kid [Bree's son] to go to his room; I loved falling down the steps and yelling, "Aw, geez, aw, geez," as I walked out to the sidewalk on my crutches. "I don't need you! I don't need anybody!" That became kind of my anthem at work — the crew guys would yell it at me.

TVGuide.com: Were you sad to say goodbye to Marcia?
Bart: Yeah. It was sad saying goodbye to a lot of people there. It was a really cool group. I feel like we made a lot of good work. I wouldn't call it a party, but we did laugh an awful lot.

TVGuide.com: Hey, maybe George has a smooth-talking twin brother out there?
Bart: Aw, man. That'd be awfully fun! But I think America's probably had its fill. Part of the success of the show is its turnover of colorful people who have come and gone, and all of them have been effective. And Marcia needs to be with somebody who is a big stud who she's attracted to! One thing I long for in my professional life is to play a scene with somebody who finds me attractive. "Ew, he's so creepy, blah-blah-blah." Well, yeah, you try doing 13 episodes with somebody who recoils every time you get close to them! Of course I don't look attractive, you know?! I love Marcia, she's pretty swell.

TVGuide.com: Were you psyched to reprise your stage role in the film remake of The Producers? Not everybody did.
Bart: Not everybody did, so I feel very lucky. I remember the first day we were on the set together, Matthew [Broderick], Nathan [Lane], Gary [Beach] and myself were all kind of going [Imitating Lane], "Oh man, we're lucky to be here."

TVGuide.com: They could have gotten, like, Ashton Kutcher.
Bart: Yeah, totally. But fortunately we lucked out and got to make the movie and that's going to be great. My kids can be embarrassed for years to come! And their kids, too!

TVGuide.com: What's your one line to sum up your character, Carmen Ghia?
Bart: "Swishy." [Laughs]

TVGuide.com: Which newbies' performances should we look out for?
Bart: Will Ferrell — when they first mentioned him as Franz Liebkind, it was one of those no-brainers. He's perfect, he definitely inhabits that crazy space, that insanity that Kenneth Mars brought to [the original film]. And you can't get a much more authentic Ulla than a girl named Uma [Thurman]!

TVGuide.com: What are you up to now?
Bart: I'm making a little independent movie called Doubting Thomas in New Mexico, and then, as you know, I'll be releasing The Producers [in limited release Dec. 16]. After that, I hope to have a quiet Christmas with my two kids.

TVGuide.com: And then start production on "The Funny Pharmacist"!
Bart: Exactly. "The Funny Pharmacist"! I mean, how great is that title?! We'll see.
29 November 2005 - Cross Reveals the Scene She Begged 'Housewives' Producers to Kill
Source : ExtraTV

Marcia Cross made an emotional return to New England Monday night, where Boston Common magazine honored the Massachusetts native. "Extra's" AJ Calloway was there for the "Housewife's" big night, and he got the inside scoop from the "Desperate" diva.

"My dad was here, and I told him he didn't have to come to anything except my wedding," Cross said at the event. "And then I looked after I talked to the crowd, and there he was. That was pretty cool."

Cross, who graces the holiday issue of Boston Common magazine, got playful and provocative in the sultry photo spread. "I love doing shoots where you get to play," she admitted. "Something comes out of me that's much more fun and vivacious."

In the magazine, Cross opens up about her picture-perfect life with her fiancé, businessman Tom Mahoney. Was it love at first sight for Marcia? "There's just something about him," she revealed.

The gushing bride also broke some baby news, telling "Extra" she can't wait to be a mom. "I want to build a nest," she said.

Let's just hope Marcia's real-life nuptials turn out better than her TV character's. After all, just this past Sunday, the tightly-wound Bree sat by and watched as her former fiancé poisoned himself to death, a scene that led to a showdown with series creator Marc Cherry.

"I have to confess that I begged Marc Cherry in no less than three meetings to not let that happen," Cross told us. "I didn't want to be the one to let him go. I've got to live with that now!"

But Cross's real-life wedding plans are alive and well, with no drama in sight. "Tonight I felt like, 'Oh my God, this is what it must feel like to get married,'" Cross related. "Because it was like one hug after another of all these people that I've known all my life and loved. That's my idea of what a wedding will be like."
29 November 2005 - George the druggist swallows bitter pill
Source : Post Gazette

It was a decisive night for George the pharmacist on ABC's "Desperate Housewives."

Stop reading now if you've got Sunday's episode TiVoed and waiting to be viewed.

Otherwise, say good night to the psychopathic suitor of Bree Van De Kamp, dead from (fittingly enough) a self-prescribed overdose of pills. He faded away as Bree looked on.

Played by Roger Bart, George established himself last season as the delightfully creepy boyfriend of Bree (Marcia Cross), who had welcomed his attentions when her marriage to Rex hit a rough patch.

Then on the season finale, Rex, being treated for a heart condition, died suddenly. The hidden cause: George, in love with Bree, had been tampering with Rex's prescriptions.

With Rex out of the way, the relationship between George and Bree continued to flower, even as Bree had doubts about jumping into a new relationship, particularly when he proposed they marry.

As he felt Bree slipping away, George last week began to come visibly unhinged. For the first time, Bree suspected his madness.

Then, on Sunday's episode, she discovered it was George who had tried to kill her therapist in retaliation for cautioning against a sudden re-marriage. As police investigated that crime, they found evidence tying George to Rex's murder. Bree was horrified.

She was summoned to George's hotel room, where, on the lam, he had overdosed on drugs.

She promised to try to forgive him for killing Rex, if he'd only confess to that crime.

"We need to call someone," he said in a fading voice, realizing the drugs were taking effect.

"Not until you admit what you've done."

"I thought you wanted me to," he whispered. "You know you did."

Seated beside his bed, Bree made her decision. She lied that she had already called the ambulance.

Imagining himself saved, George died with a faint smile on his face, as Wisteria Lane lost its most colorful villain.
24 November 2005 - 'Housewives' Star to Host Miss America
Source : Zap2It

James Denton will step away from Wisteria Lane and onto the Las Vegas Strip for his next TV gig.

The "Desperate Housewives" star has been tapped to host the 2006 Miss America pageant, which will air on cable's CMT Saturday, Jan. 21. He takes over hosting duties from Chris Harrison ("The Bachelor"), who did the honors in the pageant's final year on ABC.

"We're thrilled to have James onboard," Miss America CEO Art McMaster and CMT's Paul Villadolid say in a statement. "As a star on TV's hottest show, he brings excitement and class to the pageant, not to mention the added thrill our contestants will have sharing the stage with him."

In addition to hosting the pageant, Denton has also signed a development deal with CMT. The Nashville native will produce projects for the channel, which combines a heavy dose of music videos with concert specials, documentaries and unscripted shows.

"CMT is a very progressive leader in cable television, and I am excited about the pageant being the start of my ongoing relationship with the network," Denton says. "I plan to develop projects with CMT that continue to convey the all-American sensibilities with which both the pageant and network were founded."
23 November 2005 - Lawsuit: Hatcher Not 'Desperate' for Sex
Source : Zap2It

Now that Teri Hatcher's "Desperate Housewives" character Susan has broken up with Mike, the actress insists that she's not getting lucky on screen or off, much less in a VW van.

The 40-year-old is suing British tabloid The Daily Sport for libel after it printed a story that she had "sex romps" with men in a Volkswagen.

The tabloid "falsely alleged that she engages in sex romps on a regular basis with a series of men in a VW van parked outside her L.A. home for this purpose," reads a statement by London solicitor Schillings. "The Sport additionally allege that Ms. Hatcher does this so as not to be caught by her seven-year-old daughter during such sexual activity." Hatcher "bitterly refutes these offensive allegations" and says that they were damaging after they were reprinted and "repeated extensively" around the world. The case is scheduled to go London's High Court sometime in 2006.

The actress once famously said that she's been going through a dry spell sex-wise ever since divorcing her second husband Jon Tenney. She shares joint custody with him of their daughter Emerson Rose.

Hatcher won a Golden Globe for best actress in a comedy in 2004 for playing single mom Susan Mayer on "Housewives." She was also recently named the 2005 World Actress of the Year for the same role.
21 November 2005 - Felicity Huffman is sitting pretty
Source : USA Today

Felicity Huffman is on a wild ride.

Her ABC show, Desperate Housewives, became hot, hot, hot last season and hasn't lost much steam. She won the Emmy in September over two of her Housewives co-stars. And now she is getting not just critical praise, but also Oscar talk, for her performance in the upcoming film Transamerica, in which she plays Sabrina "Bree" Osbourne, a pre-operative man-to-woman transsexual. (Poll: Who's your favorite Desperate housewife?)

After more than 20 years as an actress, this happily married, 42-year-old mother of two is today's "it" girl.

"It couldn't happen to a nicer gal," says Housewives creator Marc Cherry. "Felicity is one of those success stories that was waiting to happen."

Huffman has enjoyed the kindness of critics before, particularly for her role on Sports Night, an ABC sitcom in the late '90s. And Cherry points out that her stock in Hollywood has been high. "She has always had the respect of this entire industry," he says.

But that's nothing like having a hit show and a movie with awards potential, albeit a modestly budgeted, art house-style film.

Huffman shrugs off talk of her success. But her husband of eight years, actor William H. Macy, seems to revel in her accomplishments.

"The tides have shifted," says Macy, 55, who starred in Fargo and Seabiscuit. "Now we walk out on the red carpets, and I'm basically invisible. But, boy, does she deserve this. I think since she was a little girl she wanted this kind of success."

Still, he says, "her schedule is just beyond belief. She's getting in hair and makeup and fancy clothes four times a week. When you're a little girl, you fantasize that that would be great, but when the reality hits, you think, 'This is a giant pain in the (butt). I really don't want to go, and I'd love to stay home today.' "

He says he told her: "If you work during your hiatus, I'm going to spank you! I need that time."

Right now, Huffman has no projects on tap. And she concedes that the demands of her career have been hard. "Motherhood," she says, "has been an exercise in guilt."

But both Huffman and Macy say daughters Sofia, 5, and Georgia, 3, are adjusting well, and Macy enjoys his Mr. Mom status.

"I've rolled up my sleeves and been a stay-at-home papa to a large extent," he says, "and I think that's good for the kids."

A tough road early on

Though Huffman now wows Hollywood red carpets — most notably at the Emmys in a pink Kevan Hall gown and at the AFI Transamerica screening in lacy brown and turquoise Dolce & Gabbana — she reveals that she didn't always have a healthy body image.

Starting in her teens, "I was bulimic and anorexic for a while, just hating my body," Huffman reveals. "As an actress, I was never thin enough, never pretty enough," she says. "My boobs weren't big enough."

The bulimia continued on and off into her 20s. At one point, "I was throwing up all the time — figuring out what foods you can throw up and what foods you can't," she recalls with little emotion.

The bulimia evolved into anorexia. Huffman's weight dropped to 98 pounds, and her periods stopped.

With her family growing increasingly concerned, she sought the help of a therapist. At that time, she viewed herself — as she told the world in her Emmy acceptance speech — as "a chunky 22-year-old with really big pink glasses and a bad perm."

She has a different view now. "Having two kids and turning 40 is what made a difference," she says. "I think I've always had a 40-year-old body, and now that I'm actually there I'm like, 'Hey, pretty good, huh?' "

Healthy inside and out

She thanks Macy, who was her teacher at New York City's Atlantic Theater Company, for helping alter her negative perception.

"I've heard from her," he says, "that the biggest help I was is that I just adore her and think she's the sexiest woman. The first time I met Felicity Huffman, all I could think was 'yum, yum.' She was delicious. I love her body, and I always have. And if I liked it, maybe it was good enough for her, too."

These days, she and Macy work with a fitness trainer three to four times a week in their home gym. The trainer encourages the couple to eat healthfully.

The couple also go on runs together. And Huffman can say with confidence, "I love my body now."

Role of a lifetime

It's easy to see why over drinks one afternoon at a West Hollywood Mexican restaurant, where Huffman, looking ultra-feminine in a flowered dress and baby-blue sweater, and two female colleagues are talking about her role in Transamerica (opening in Los Angeles and New York on Dec. 2, nationwide Dec. 23).

But there are a few noteworthy differences between Huffman and her companions.

She's drinking a beer; they're drinking margaritas. She is wearing little makeup; her friends are fully done up. And the biggest difference: Huffman has been a woman all her life; her friends, not so long.

Huffman had absolutely no idea what it was like to be a transsexual. As far as she knew, she had never even met one. "I thought they were an odd minority at best," she says.

Coaching was provided by the transsexual women sitting across from her: Calpernia Addams, a former combat medic with the Marines during the first Gulf War, and her roommate, Andrea James, a TV commercial writer.

"I thought the fact that she is already such a beautiful, petite, delicate woman would make it difficult for her to convince the audience that she was ever anything but that," Addams says.

Huffman says her eating disorder helped her tap into the pain of her character in Transamerica. Huffman's Bree (formerly named Stanley) is in an awkward stage; she is not comfortable with her still-male body. And her therapist won't sign her sex-change authorization form until she develops a relationship with a son she never knew she had.

"The self-loathing that goes along with bulimia or anorexia helped me understand Bree's internal journey," Huffman says. "I didn't think I could do it. It was a huge undertaking, and there was a long way to fall."

Macy, an executive producer on the film, says many who have seen Transamerica don't even recognize Huffman in the role.

"Your first image of her is so shocking — such a weird, unattractive person," he says. "But by the end of the film, even though the makeup is exactly the same, you've completely fallen for this woman."

'A revelation'

In the theater lobby after the AFI screening, Huffman's Housewives hubby, Doug Savant, said he was left emotionally "devastated" by her performance. "But I'm never surprised because I know the depth of that woman's talent. It's on display for me often at work, but I think it's going to be a revelation for the people who know her only for (Housewives)."

And Cherry promises that Huffman will have an opportunity next season to show off her dramatic abilities when, he teases, "something life-changing will happen to the (Scavo) family."

It is a testament to just how adored and respected she is on the Housewives set that the AFI screening was attended by almost her entire TV cast, including Marcia Cross, who had a 5 a.m. set call the next day, Eva Longoria, who flew in to attend, Nicollette Sheridan, who was nursing a flu, and Teri Hatcher, who had to find a last-minute babysitter and had already viewed the film as one of the judges at April's Tribeca Film Festival, where Huffman was voted best actress.

"She's going to win the Oscar," Hatcher says.

And she might be right. The Academy Awards have recognized gender-bending roles, from Jack Lemmon, who received a best-actor nomination for going drag in the 1959 comedy Some Like It Hot, to Hilary Swank, who won best actress for posing as a boy in 1999's Boys Don't Cry.

Huffman says awards are "completely out of my control. It's a tiny little movie. If we can get people in the seats, and it brings unity and creates understanding, then we're succeeding beyond our wildest dreams."
16 November 2005 - 'Housewives' actor denies improper behavior firing
Source : USA Today

Former Desperate Housewives actor Page Kennedy says he wasn't fired from the hit show because of any improper behavior.

The Detroit native and former Western Michigan University student said officials merely wanted to recast his role.

"There are a lot of stories that have been told, but the truth of the matter is that Touchstone (the show's producer) decided to go in a new direction, and they bought out my contract," Kennedy told the Detroit Free Press for a story published Wednesday.

Publicists for the series have said Kennedy, who joined the show this season, was let go earlier this month after a "thorough investigation by the studio" of allegations of improper conduct made against him.

Kennedy, 28, said he's concerned about the damage the allegations could do to his image, at least in the short term.

"I feel that my life will be looked at under a microscope now," he told The Detroit News. "Anything that I do or am perceived to do will make news."

Kennedy played Caleb, a character shrouded in mystery and seen only briefly as he was held captive in the basement of Wisteria Lane newcomer Betty Applewhite (Alfre Woodard). In the Oct. 23 episode, it was revealed that Caleb may be responsible for a teenager's murder in Chicago.

The role of Caleb has been recast, and Kennedy's final appearance on the ABC series aired Sunday.

Kennedy appeared in the HBO series Six Feet Under and made his film debut in 2003's S.W.A.T. He's in the movie In the Mix, which is set to open on Nov. 23.

Desperate Housewives draws about 25 million viewers weekly.
15 November 2005 - The dope on 'George': Eva's Sex Secrets ?
Source : Access Hollywood

Eva Longoria took a treacherous fall down the stairs on Sunday's "Desperate Housewives" and yet even with her "Desperate" pregnancy in doubt, she decided to hit New York City (in real life, of course) and Access Hollywood's Tim Vincent was with her every step of the way as the two talked about her recent Cosmo spread.

"The sex tips made me blush," Tim smiled.

"I don't have any sex tips in mind," she gasped.

"Really? No waxing?" he asked, proving he had already read the sexy article in the new issue of Cosmopolitan.

"That's not a sex thing. That's a hygiene thing," she laughed.

From extreme bikini waxes to her red-hot romance with San Antonio Spur Tony Parker, no topic is taboo. And now that she's pregnant on "Desperate Housewives," does Eva have any baby plans of her own?

"No plans. Well, Tony and I would have to live in the same city. That is a must to have children," she said.

"Tony is busy with the season at the moment. When do you get a chance to make time for each other?" Tim asked.

"I just left him last night," she revealed. "Every weekend I fly home. That's the great thing about our relationship. He has a schedule that lasts until April and doesn't change. For me, not one day is identical to the last."

And this week, Eva's crazy schedule brings her to New York where her first stop was lunch at Per Se to toast her December Cosmo cover shot.

Then it was off to host "Saturday Night Live." But it appears she's not "Desperate" for any good material.

"I have a couple characters in mind – a couple people to poke fun of," she grinned. "Of course, we are going to be poking fun at the show."
10 November 2005 - The dope on 'George': He's a stand-up guy
Source : USA Today

The last person you'd want to see mixing the meds at your drugstore is Desperate Housewives' Roger Bart, who plays Bree Van De Kamp's creepy pharmacist boyfriend, George Williams. Last season, George killed Bree's husband, Rex, by tampering with his heart medication. Last week, he drugged Bree and carried her up to his hotel room with lascivious intentions.

Marcia Cross (Bree) says the marriage proposal shown in promos for Sunday's episode (ABC, 9 p.m. ET/PT) "isn't even the big deal" compared to the ultimate effect George will have on Bree's life before the end of November sweeps.

"George's story line is building to a surprising conclusion that I hope will satisfy fans as well as shock them," teases Housewives creator Marc Cherry.

In person, Bart proves more stand-up comic than creepoid. Posing for a photo at the Wilshire-Lapeer Pharmacy, he does his best to comfort legit pharmacist Elliot Winestock. "I promise I won't kill anyone," says the grimacing, thick-browed Bart, pretending to be distracted by bottles of Viagra and Vicodin. "Be careful no one sees me — bad for business."

Since George joined the show last season, Winestock says he has gotten ribbing from customers, some of whom have told him: "Hey, I really like my husband, so don't try anything."

Playing a pharmacist on a popular TV show, Bart admits to getting strange glances when he's doing something as routine as selecting fruit at the grocery store. He says: "I think people might be assuming, 'He's going to take that orange and poison it.' "

Bart, 43, first gained attention playing Charles M. Schulz's lovable beagle, Snoopy, in a Broadway revival of You're a Good Man, Charlie Brown, for which he won a 1999 Tony Award. Many more theater patrons caught his Tony-nominated performance as the director's flamboyant "common-law" assistant, Carmen Ghia, in Mel Brooks' The Producers. He reprises the role in the film version, out Dec. 16.

Cherry was among Bart's musical-theater fans, but was uncertain whether Bart had the acting chops to translate his talents to the tube. "I just assumed he'd be sort of hammy," Cherry says. "But in his first audition, he surprised us with an incredibly nuanced performance. And after we cast him, he just got better and better."

Cross agrees, calling him "a comedic genius."

Likening herself to Bart, Housewives' Nicollette Sheridan (Edie) — with tongue firmly planted in cheek — praises Bart as "shockingly brilliant ... and I think we're both quite feminine."

He gets that a lot, despite being in real life a straight, never-wed dad of two daughters: University of Pennsylvania sophomore Alexandra, 19, and Eller, 4½, who lives with her mother in New York City. His outrageous, over-the-top take on cat-suit-clad Carmen, coupled with what he calls his own "slight build and tenor voice," has led to some gay stereotyping.

He played the only gay male among The Stepford Wives in last year's film remake, and his hapless Housewives character has had a history of striking out with the ladies. Daytime soap vet Linda Dano arrives Sunday as George's mom, relieved that her antique- and flower-show-loving son may be in a serious relationship.

Bart suspects that his long run of gay roles may be concluding. But with the success of George comes new stereotyping concerns.

"It's likely," he frets, "that I'll now be playing conniving, deceitful pharmacists."
10 November 2005 - "Housewives" Drama at People's Choice
Source : EOnline

Desperate Housewives is a drama--the people insist.

For the second year running, the campy ABC soap has earned a People's Choice nomination in a category reserved for grownup talk. This time around, the fashionable Housewives will go up against CBS' gruesome CSI and NBC's brutal Law & Order: SVU for honors as Favorite TV Drama.

Overall, Angelina Jolie nabbed the most nominations, three, as the field for the 32nd annual People's Choice Awards was announced Thursday in Hollywood.

Regularly tabbed in the tabloids as the woman who pushed Brad Pitt and Jennifer Aniston's marriage off a cliff, Jolie remains in high regard among the People's Choice public (a sampling of men and women aged 18-54, whose likes determined the nominations). Jolie is among the top three finalists for Favorite Female Movie Star, Favorite Female Action Star and Favorite On-Screen Match-Up, a nomination shared with Pitt for Mr. and Mrs. Smith.

Pitt also was nominated for Favorite Leading Man. Aniston, who didn't launch any new product during the survey period, wasn't nominated for anything.

Meanwhile, back on Wisteria Lane, the rivalries can become more entrenched now that Teri Hatcher, and only Teri Hatcher, has been nominated among the residents. Hatcher, who lost out on Emmy night to costar Felicity Huffman, must merely dispatch with Jennifer Garner of ABC's dying Alias and Jennifer Love Hewitt of CBS' sapling Ghost Whisperer to claim her trophy as Favorite Female TV Star.

At the Emmys and the Golden Globes, Hatcher and the Housewives company competed in the comedy categories, where ABC thought the show matched up better. But when it comes to the People's Choice Awards, the show, honored last year as Favorite New TV Drama, asked to be lumped in again with the drama queens, according to a spokeswoman for CBS, which is carrying the award telecast.

To be sure, the Favorite TV Comedy race is not the power category at the coming People's Choice Awards. Underscoring the broadcast networks' inability to mount many recent sitcom hits, the three nominated shows are either dead (CBS' late Everybody Loves Raymond), old (Fox's That '70s Show, eight seasons and running) or really, really old (Fox's The Simpsons, 17 seasons and running).

Help for the genre may be on the way in the form of the nominees of the Favorite New TV Comedy race: UPN's Everybody Hates Chris; CBS' How I Met Your Mother; and, NBC's My Name Is Earl. Then again, Joey didn't exactly usher in a golden sitcom era after it was the people's pick in this race last season.

Up for Favorite New TV Drama: ABC's Commander in Chief, the fall's most-watched new show; CBS' surging Criminal Minds; and, Fox's Prison Break.

Not making the cut in any category: Anything or anyone on the WB; ABC's breakout hits Lost and Grey's Anatomy; Julia Roberts, who laid low in 2005 after winning Favorite Female Movie Star in January; and, Tom Cruise, who self-immolated after scoring a Favorite Male Movie Star nomination last year.

Categories falling out of favor with show producers were two music ones, Favorite Remake and Favorite Combined Forces (a cute name for a duet or trio). Both were in play at last year's show.

Winners will be determined by Internet voting at www.pcavote.com. The virtual polls opened Thursday. On Nov. 28, eight more categories, including Favorite Movie, will be added to the online ballot.

The results will be announced in a CBS telecast on Jan. 10--a Tuesday, the better to avoid a Sunday confrontation with Desperate Housewives. The Late Late Show's Craig Ferguson will host.
8 November 2005 - 'Housewives' Actor Shown the Door
Source : Zap2It

Judging from the teaser for Sunday's (Nov. 13) "Desperate Housewives," the episode will afford actor Page Kennedy his biggest moments yet.

And, apparently, his last ones.

The 28-year-old Kennedy, who plays the locked-in-the-basement son of Alfre Woodard's character on the ABC hit, has been dismissed from the show following allegations of "improper conduct" against him. Just what those allegations were remains a mystery; a spokesperson for Touchstone TV, the studio (like ABC, a unit of Disney) that produces "Desperate Housewives," says only that a cast change is being made.

Casting has begun for a replacement for Kennedy, and an announcement is expected later in the week.

The role on "Desperate Housewives" -- in which he plays Caleb Applewhite, the son of Woodard's Betty Applewhite -- was set to be a breakout part for Kennedy. The character has remained shackled in Betty's basement and largely unseen for much of this season, but viewers got a look at him in the Oct. 23 episode; Sunday, it looks as though he finally gets out of his mother's house, triggering consequences up and down Wisteria Lane.

Prior to joining "Desperate Housewives," Kennedy had a recurring part on Showtime's "Barbershop" and guest-starred on "The Shield" and "Six Feet Under." His film credits include "S.W.A.T." and the upcoming Usher movie "In the Mix." He also appeared in the pilot for The WB's midseason show "Pepper Dennis" but left that show when "Housewives" came along.
8 November 2005 - 'Desperate' Gals Do Get Along!
Source : ETOnline

We've heard the rumors, but are they true? "Desperate Housewives" star MARCIA CROSS opens up about whether she and her famous castmembers get along -- or whether there's truth to the tabloid tales.

"We get along great," she tells this Sunday's edition of Parade magazine. "It's the thrill of our lives, this show. It's this incredible ride."

But she admits that they don't see a lot of each other outside of work. "We don't socialize much," she reveals. "We spend so much time together, the trick is to find time for your family and friends."

The media madness that surrounded the ABC show's first season caused the Juilliard grad to take a break over her summer hiatus. "I was exhausted," she says. "Taking another role would have been like running a marathon after a marathon."

The veteran actress, who's engaged to banker TOM MAHONEY, is relieved that there's more calm surrounding the second season. "We're all more relaxed this time," she says. "There's less chaos."

And she's not afraid to admit that she thinks season two is even better than the first. "It has such good flow," she says. "And the scripts are good."

Although happy to be back at work, Marcia's thrilled for her two-week break at Christmastime, where she'll visit her close family -- but don't expect her in the kitchen slaving over holiday dinner.

"I can't cook," she says freely. "But I have this wonderful family in Massachusetts and we'll all squeeze into my mother's house, and she'll do all the cooking. Some of us are domestic, but not me!"

Meanwhile, our KEVIN FRAZIER was on the set of the fun photo shoot for Parade's cover where the actress reveals how she stays slim.

"I think the thing that saves me is that I don't have it in the house because I have no will power," she says of junk food. "It's just not there. But I'm not always perfect."

And the word "diet" simply isn't in her vocabulary. "I think if I try to lose weight I'm going to gain five pounds because the minute I tell myself I can't eat things then I want to go eat everything!"
7 November 2005 - A 'Desperate' Transformation
Source : ETOnline

"Desperate Housewives" star FELICITY HUFFMAN branches out -- way, way out -- in her new film, 'Transamerica,' in which she plays a transsexual looking to complete her gender reassignment surgery.

"What I was concerned with was telling the truth and getting it right," Felicity tells ET, "because it's a small community, it's a minority, and its usually very marginalized, if not looked down on. So I wanted to make sure that my representation was true; that's what I was concerned with, not so much how I looked."

In 'Transamerica,' arriving in theaters nationwide December 23, Felicity plays Bree, a person whose reassignment surgery is put on hold when she learns she fathered a son -- who has just been picked up by the police. Forced to deal with her past before she can move into her future, Bree springs Toby (KEVIN ZEGERS) from jail and the two set out on a road trip for Los Angeles, both hiding their motives and identities from each other.

Surprisingly, playing a man who becomes a woman was the easy part for Felicity, who decided to bare it all for the first time for the film. "I think the [thing] that took true courage on my part [was] being naked in the bathtub," she says. "When you're on a movie set, the grips are there and the cameras are there, and you're like, 'Here's my scary a$$ and here it is getting in the bathtub!'"

But the "Desperate Housewife" says the experience was a good one and that she might be open to doing it again. "Yeah, sure, if it's -- it's such a cliché now -- but if it's necessary for the story, yes I would," she says. "Of course, I would have to think it's necessary for the story!"
4 November 2005 - Househusband Sticks Up for Housewives
Source : TV Guide

As with any red-hot series entering its second season, ABC's Desperate Housewives (Sundays at 9 pm/ET) has come under added scrutiny. As critics (OK, gossipmongers) spec that the divas' backstage dueling has taken a toll on the sudser, all the male cast members can do is sit back and get their jobs done. TVGuide.com spoke with Doug Savant about the supposed slump, Tom's mysteriously dropped secret and Housewives' "rivalry" with Lost.

TVGuide.com: Does being on such an estrogen-heavy set create a special camaraderie among the menfolk?
Doug Savant: Occasionally. Most of us play on the Desperate Housewives softball team, so on Saturday we get together and bat some balls around. [Laughs] Right now, I think we're in fourth place. There are some teams that have been together longer than us that are pretty darn good. Like The West Wing...

TVGuide.com: You're getting your butt kicked by Amy Grant and the Three Wishes people, aren't you.
Savant: [Laughs] All right, obviously you looked up our standings on the Internet!

TVGuide.com: Alas, no amount of camaraderie could save you from getting a beat-down on the Oct. 13 all-Housewives men edition of Celebrity Poker Showdown, huh?
Savant: Most people think that being an actor, especially one on a hit show, is all about ego gratification, but for me it's one episode in humility after another.

TVGuide.com: Hey, you weren't first to get knocked out. [Mark Moses had that dishonor.]
Savant: I wasn't the first, but I've gotten so many e-mails about my K-9 off-suit [hole cards].... [Laughs] And now, by the way, everyone is a poker genius. I went to the thing thinking, "OK, I can make $5000 for my charity. That would be great." What I didn't realize is what a bitter taste the experience would leave in my mouth!

TVGuide.com: Which of your costars surprised you the most with his play?
Savant: Actually, Steven [Culp], who had the least amount of experience and ultimately knocked me out, because either he's the greatest actor in the world and he was sandbagging, or he was literally incompetent and still won. Oh, I don't need to defend myself — I lost, damn it.

TVGuide.com: OK, topic change: Do you feel that Housewives has taken some unwarranted hits this season?
Savant: Well, I think we're ripe for sniping, and we've engendered some of that. Frankly, I've lost all objectivity — I feel so close to the show now — but I still think that we have laugh-out-loud moments, and I'm enjoying the performances of my cast mates and the writing. So by my yardstick, we're still doing very well. But when something is so fresh and revolutionary as the show was to the rest of television in its first year, it is a tough act to follow. From what I've heard, the last new episode really galvanized people again.

TVGuide.com: In my opinion, you're in one of the fresher story lines, with Felicity Huffman.
Savant: Thank you very much. I think it's an important one. Last year people were like, "Don't you wish you were doing something else or had one of the other roles? Are you envious of the other men?" I just kept saying, "I've got the greatest job in the world," and I mean that wholeheartedly. All of my scenes are with Felicity and we have a great time, so the work's at a pretty high level.

TVGuide.com: Speaking of envious, I recently asked one of your Melrose Place beaus, Greg Evigan, if he looks longingly at you when watching Housewives, and he said yeah, he longs for your job.
Savant: [Laughs] Greg's a funny guy, a great guy. What were you interviewing him about?

TVGuide.com: He was in a Sci Fi Channel movie about a three-headed dog.
Savant: Yeah, well, he went from bitch-slapping poor Matt on Melrose Place to fighting a three-headed dog. There's karma for you!

TVGuide.com: What happened to Tom's secret, which was hinted at in that Season 1 episode with his dad [played by guest star Ryan O'Neal]? The speculation was that he would be outed as a bigamist.
Savant: When I first came on the show, I do think that's where they were headed. One of the great things — and it's a potential liability — is that our writers are not that far ahead, so there is a fluidity, but specifically in the first year, they were watching and learning a lot about the characters, about the audience response, about who they could write for and what they could write. When an actor gets a job, you feel, "Oh, they love me, of course they want me around." Well, they really didn't have plans to have me around much. [Savant was not on contract until this season.] I liked to say, "Although I'm married to Felicity on the show, ABC and I were just dating." So Tom's evolution has been rewarding in that they felt they didn't need that [duplicitous side] for this character and they really like [his and Lynette's] relationship. I also think they discovered that we have the most sound marriage and probably emblematic of what goes on with most of America. That doesn't strike me as boring in the least. Having four kids, as I do in real life, and trying to maintain your marriage and your sense of humor and everything presents plenty of obstacles to overcome and stories to tell that are both funny and poignant.

TVGuide.com: Are there any plans for Ryan O'Neal to return?
Savant: I've heard it rumored, but there is nothing concrete to tell you yet. It was such a joy to work with him. We had no idea what to expect, because he has been such fodder for the tabloids, and he was charming, gracious, generous, funny and self-deprecating.

TVGuide.com: What can you tease about upcoming story lines?
Savant: There is a fantastic episode coming up [on Nov. 13]. How can I tease it? Umm.... Do you know who Larry Miller is? He guest-stars and is brilliant. You'll see him in a way that you've never quite seen him before. How's that?

TVGuide.com: Over the summer, Lost's Matthew Fox claimed that Housewives was getting all the love — meaning bonus bling — from ABC. Just what kind of baubles and trinkets are you wading in over there?
Savant: [Laughs] I don't know what Matthew Fox was referring to. I'm grateful to have a job, and I'm a fan of Lost, and I don't want to perpetuate any feuding between two hit shows. I think it's crazy, man. He works in Hawaii on what's now an Emmy-winning show, getting the opportunity to do some of the best work that's out there on television. I would think that that would be enough. I wish him much happiness and less....

TVGuide.com: So, no smack-talking from you?
Savant: Whatever! I wish I could couch it in a way that... I don't want to be offensive to Matt Fox. Maybe it was the journalist's problem? Maybe they took him out of context. How's that? [Laughs]

TVGuide.com: Will we see your wife [Melrose costar Laura Leighton] back on TV anytime soon?
Savant: Eyes was cut short, and that was a travesty, an all-out travesty. John McNamara created what I think was a really smart, funny show; Tim Daly was doing some of the best work he's ever done. People were passionate about it.... It just wasn't given a fair shake. But the reason you haven't seen her since is that we had another baby in June. The new pilot season is coming up and she'll be back out there. We mourn Eyes, but she'll be back out there.

TVGuide.com: Melrose's Sydney was the best.
Savant: Everybody loved Sydney — I thought that, frankly, should be the name of her spin-off. She was a miserable failure at all [of her grand schemes] but she did it with such style that people adored her. Laura is still beloved for that.

TVGuide.com: Leave us with a colorful anecdote from your years as a pizza delivery guy.
Savant: OK, and this is 100 percent true: I hadn't yet gotten Melrose Place, but I had done six movies — including one called Masquerade, with Rob Lowe and Meg Tilly — and I was delivering a pizza to someone who was watching Masquerade on HBO. As I'm handing them the pizza, they turn to look at the television and look back at me, and look at the television and look at me and say, "Are you that guy?" I was like, "Yeah, just give me the money for the pizza."

TVGuide.com: Did they figure there was no need to tip a working actor?
Savant: Trust me, when I was delivering pizzas you were lucky to get a $2 tip, so to anybody reading this at TVGuide.com, tell them to tip their freakin' pizza guys at least five bucks!
3 November 2005 - Will George Engage in a 'Housewife' Proposal?
Source : ExtraTV

Bree and George are heating up the small screen this week on "Desperate Housewives," and rumor has it that the sneaky pharmacist pops the question.

"There seems to be some lip-locking going on," said Roger Bart, who plays George on "Housewives." "We check into a hotel, and it is with great hope that I am able to have it be an eventful evening of passion."

George's blossoming romance with the merry widow of Wisteria Lane has turned Roger into the TV villain viewers most love to hate. "I was at a stoplight yesterday and two people looked outside of their mini-van window and with a heavy French accent said, 'My wife thinks you are a horrible person,'" Bart admitted. "That's typical!"

But Bart isn't surprised that Bree has, so far, managed to resist his charms. "I'm such a loser," he laughed.

But how does Roger really feel about Marcia? "It's not really her," he said. "But get that hair up in a bun, and she's just a puritanical crazy. No matter what she does, she is undeniably sexy. And she says the same about me."
3 November 2005 - Buttafuoco Keeps "Housewives" Cool
Source : EOnline

Joey Buttafuoco is bringing a whole new level of desperation to the Desperate Housewives set.

The man at the center of the '90s-era "Long Island Lolita" case can be found manning a studio-lot concession stand, serving up frozen treats to the casts and crews of Housewives and Crossing Jordan, Inside TV magazine reports.

Buttafuoco, 49, made national headlines in the early 1990s after his 17-year-old girlfriend, Amy Fisher, shot his wife Mary Jo in the face, leaving her severely injured and partially paralyzed--an incident that provided the inspiration for no fewer than three made-for-TV movies.

The first small-screen reenactment, Amy Fisher: My Story, starred Noelle Parker in the Fisher role and provided a rundown of events from the lovesick teen's perspective. The second, The Amy Fisher Story, starred Drew Barrymore in the title role and examined the incident from the public's point of view. The third, Casualties of Love: The Long Island Lolita Story, starred Alyssa Milano as Fisher and provided the Buttafuoco family's version of events.

The real Fisher was convicted of reckless assault in 1992 and served seven years behind bars. She has since married and had two children and has gone on to become a successful writer, as well as an active crusader for prisoners' rights. Her tell-all book of her experiences, If I Knew Then, was published in 2004.

Buttafuoco, a former auto-shop mechanic, pleaded guilty to one count of statutory rape and served four months in prison. Hoping to capitalize on his newfound infamy after his release, he and Mary Jo moved to California to pursue show-biz dreams and later divorced.

Last year, Buttafuoco was sentenced to a year in jail and five years of probation after pleading guilty to auto-insurance fraud. In August, he was charged with illegal possession of ammunition and pleaded not guilty.

The mechanic turned ice-cream man, who reportedly charges $250 an hour for his Mister Freeze services, is said to be working on a screenplay based on the events of his life.
2 November 2005 - Joey Buttafuoco's New 'Desperate' Gig
Source : Access Hollywood

Joey Buttafuoco is working on ABC's "Desperate Housewives" -- at the show's concession stand, anyway.

Buttafuoco, who made national headlines in the early 1990s when his teenage girlfriend shot his wife in the face, is working in craft services on the Hollywood sets of TV shows, according to a story in the latest issue of Inside TV.

The 49-year-old Buttafuoco runs a concession that doles out protein shakes and ice cream to the stars of "Desperate Housewives" and "Crossing Jordan," the magazine reports.

He was a New York auto body shop owner in 1992 when his 17-year-old lover, Amy Fisher, shot his wife, Mary Jo. Fisher, nicknamed the "Long Island Lolita," served seven years in prison.

Buttafuoco pleaded guilty to one count of statutory rape and served four months in jail. He and his wife later moved to California and divorced.

Last year he was sentenced to a year in jail and five years of probation after pleading guilty to auto insurance fraud. In August, he was charged with illegal possession of ammunition and pleaded not guilty.
2 November 2005 - 'Desperate' duo tied to Kramdens
Source : New York Daily News

Whatever the precise lineup of couples at any given moment on "Desperate Housewives," the most consistently interesting pair in the bunch remains the Solises, Gabrielle (Eva Longoria) and Carlos (Ricardo Chavira).

In several ways, Gabrielle and Carlos descend directly from one of the all-time top-10 TV couples, Ralph and Alice Kramden of "The Honeymooners."

Like Ralph, Carlos always has a scheme. Like Ralph, he tends to bungle it, or else he wouldn't currently be in prison.

Like Ralph and Alice, Carlos and Gabrielle spend 90% of their conversation exchanging insults.

And like Ralph and Alice, in the end they make up. It takes a while to realize that's what they're doing, since it looks like they're still fighting. But the truth was spelled out in the recent episode where Carlos talked about what being in prison does to their relationship.

We argue, he says.

We always argue, she replies.

Yeah, he says, but when we argue here, that's where it ends. When I'm home, it always ends with our having sex.

Bingo. To us, it's fighting. To them, it's foreplay.

Of course, Carlos and Gabrielle aren't like the Kramdens in every way. Where Ralph and Alice were endearing, for instance, the Solises are repulsive.

He's a thug. She's a self-absorbed crook, liar and cheater.

Now, yes, I understand their bad behavior is part of the joke. The more exaggerated the evil traits of characters on a show like "Desperate Housewives," the better it serves the satire.

I get that, and it works. It works so well that it was downright entertaining last season when Carlos' annoying mother got run over. That's the point at which it became inarguable that everyone on the show was now officially a cartoon.

That said, however, the Ralph-and-Alice element remains, because sparring spouses are too strong a television tradition to ignore, from "All in the Family" and "The Jeffersons" through "Married ... With Children" and "Everybody Loves Raymond."

No, the fighting hasn't changed. But the payoff has.

The Kramdens' fights were sweet, not just because they were funny, but because at the end Ralph would grab Alice, give her a great big kiss and say, "Baby, you're the greatest."

In subsequent sitcoms, with the sometime exception of "Raymond," the making up gradually seemed to become less important, the fighting more of an end in itself.

It's likely that few "Desperate Housewives" fans would care if Gabrielle and Carlos never exchange a kind word again. All the fun has been shifted into their sleazy scheming.

In a sense, that's consistent with the broader TV notion today that viewers prefer a slap upside the head to "Baby, you're the greatest."

The hottest tickets on television the last few years, after all, have been remorseless cable dramas like "Oz" or "The Sopranos" and "reality shows" whose payoff every week is seeing someone get kicked to the curb.

Watching the Solises of Wisteria Lane, you wonder if, today, the Kramdens of Chauncey St. could even get in the door.
31 October 2005 - Everyone loves Eva
Source : Herald Sun

SHE'S the hottest star in the world right now -- but you'd never have guessed it from just talking with open-hearted Eva Longoria.

Of course, the massive entourage fussing around the tiny Desperate Housewives star -- numbering at least 15 people at one stage -- kind of gave it away.

With her legs tucked underneath her on an over-sized velvet couch in the Myer marquee on Derby Day, the department store giant's international guest spoke exclusively to the Herald Sun about kissing frogs and bad-hair days.

"You always hear about this country called Down Under and all the cliches, like how everyone looks like Crocodile Dundee," Longoria said.

"That's the only correlation we Americans have so it's nice to come here and know it's totally wrong."

Although Longoria's visit to Melbourne lasted just 24 hours, it appears Australia has left an impression on her.

"I think the people are amazing," she said.

"You can tell a lot about a country by the people, and it's been very warm and welcoming.

"Everyone here loves the show, my character Gabrielle Solis and their fashion," she said pointing towards the track.

Longoria joined The Bold and the Beautiful hunk Ronn Moss and judged the women's classic racewear final, crowning Laura Gleich, 20, of Brunswick the winner.

"I don't think I've seen one similar colour out there," she said of the trackside fashion.

"I love the weather here, which has a lot to do with what you wear.

"It's great when you can wear the sundresses, the strapless, halter tops, the dress the mini-skirt -- you can do anything during this weather.

"And with a hat, no one can have a bad hair day."

Wearing a coral and tangerine underlay Alex Perry dress, Jane Lambert headpiece and Chloe gold stilettos, it was a small gold No. 9 swinging around Longoria's neck that caught the attention.

"It's the number my boyfriend wears," she said, smiling, as she touched it gently.

Sorry gents, but the "boyfriend" is 23-year-old basketballer Tony Parker, a star with the NBA champion San Antonio Spurs.

Other men have also recently featured heavily in her life, with actors Michael Douglas and Kiefer Sutherland lining up next to Longoria in new film, The Sentinel, to be released in April.

And, while Longoria's saucy Housewives character seems to have all the moves in keeping a husband and a toy boy in line on-screen, off screen it's a very different story.

Asked if she had any tips for Melbourne women on how to snare a man, Longoria laughed loudly.

"Oh God, no, I don't!

"I fortunately have a wonderful man in my life and I feel totally blessed that he chose me," Longoria revealed.

"I don't even know how it happened, and I couldn't even begin to give tips on it.

"I've made a lot of bad choices in my life.

"I think the only thing I can say is you have to kiss a lot of frogs before you get to your prince."

On Saturday night, Longoria shopped for two hours in Myer's city store and followed by visiting the Queen Victoria Market yesterday before departing on her flight back to Los Angeles.
26 October 2005 - 'Desperate' Sheridan to Remain Single
Source : Zap2It

She may have started out as the "sure thing," but times have changed.

While she is one of the leads on ABC's "Desperate Housewives," Nicollette Sheridan's character is not a wife. Rather, she is the dangerously single real estate agent Edie Britt -- a free agent on the prowl.

It appears that the actress would like to keep it that way in her real life as well.

According to the her publicist, Sheridan and her boyfriend of a year-and-a-half, Swedish actor Niklas Soderblom, have ended their relationship. The couple became engaged last year over the holidays.

Previously, Sheridan was married to actor Harry Hamlin for two years in the early '90s.

For the record, Sheridan's co-star, Marcia Cross, is still engaged although no date has been set for her impending nuptials.
25 October 2005 - Slumping "Housewives"
Source : EOnline

What do Hollywood's struggling box office and Desperate Housewives have in common? Not much, actually. The box office, for example, has been down four straight weekends. ABC's campy soap has been down five straight weekends.

Sunday's Housewives was the least-watched episode of the season, least-watched being a relative term considering 25.2 million people tuned in, and the show ranked number one among coveted 18- to 49-year-old viewers, per Nielsen Media Research.

Overall, the show ranked second, behind only CBS' CSI (28.5 million), for the TV week ended Sunday.

For the season, Housewives is averaging 26.5 million viewers, up about 10 percent from last year.

And yet...

Last year, Housewives started big and got bigger, topping out with a finale watched by more than 30 million. This year, Housewives started really big (28.4 million for the opener) and steadily has gotten smaller.

The buzz from viewers and critics is that something is amiss on Wisteria Lane. On ABC.com's message boards, posters trade ideas on improving the show ("We need more Edie!! We need more Bree!!"). On the policy-minded National Review's Website, the characters' second-season antics are likened to President Bush's latest pick for the Supreme Court, i.e., disappointing.

While the White House has refused to back away from high-court nominee Harriet Miers, Housewives creator Marc Cherry has conceded that some of his show's "new stuff" is working, and some of it's not.

"This, of course, is the nature of episodic television," Cherry told the Los Angeles Times last week. "They can't all be gems. But, rest assured, I'm paying attention to my audience's response and am trying my darndest to please them. And I will continue to do so as long as I've got that executive producer credit above my name."

So far, one credit Cherry has not taken this fall is that of writer. While it's been suggested that his absence at the keyboard might be behind the show's off vibe, Cherry has insisted he still has a hand in all storylines. Also, it's not as if Cherry was a one-man band last year. Per the credits at IMDb.com, he wrote or cowrote five scripts in 2004-05, leaving the other 18 episodes to his staff.

But those who believe Cherry is the missing ingredient can take heart. After taking the coming Sunday off for a repeat, Housewives returns with an all-new, Cherry-written episode on Nov. 5.

There's even a promised scene for Edie.
24 October 2005 - The 'Desperate' Basement Secret Revealed
Source : ETOnline

When Betty Applewhite moved on to Wisteria Lane, it was clear that Susan's new "Desperate Housewives" neighbor had some deep, dark secret. As we learned more about Betty and her son Matthew, we discovered they were keeping someone prisoner in their basement.

On Sunday night, Caleb, the mystery man who is being held prisoner, was revealed. It seems he's on the run from the law for possibly killing a teen girl in Chicago.

"It's time we talked about her, Caleb," Betty said during the episode, after seeing on the news that another man had been arrested for the murder. "Until you start accepting responsibility for what happened, you know I can't let you out of here." But questions still remain as far as what Caleb's connection to Betty is and whether he is in fact guilty of the alleged crime.

Detroit-born PAGE KENNEDY was the lucky actor to land the role on the hit ABC series. He stopped by the ET set Monday to fill MARK STEINES in on his new mysterious character. So will Caleb ever get out of the basement? "That might be a safe assumption -- one day," Page smiled. "I can tell you a lot of interesting things happen."

Page told Mark that he was a huge fan of the show before he got the role -- and when he actually walked onto the set he couldn't believe he was there: "My first time walking on Wisteria Lane, I was like, Oh! My house is next to TERI HATCHER's!"

As far as any Desperate gossip -- Page revealed that all the ladies are beautiful, and the big eater on the set is EVA LONGORIA: "I watched her eat a whole pizza -- she can put it down!"

For all you ladies, the theatre-trained Page is single, has two kids, and has previously guest starred on "Six Feet Under" and "Barbershop."
21 October 2005 - Scruffbag Eva
Source : Sky News

It's a refreshing change to see Desperate Housewives star Eva Longoria dressed more like us normal-folks.

The 24/7 glamourpuss dresses down as she takes her white fluffy dog out for a... carry.

Looking more like a regular housewife, she combines a pair of swanky shades with white trackies and a t-shirt.

The top was bought by her San Antonio Spurs basketball star of a boyfriend Tony Parker.

Eva looks like she's having a good chin-wag, probably on the phone to her mates about her lover's cameo role coming up in the new series of DH.

But, what on earth would Bree have to say about her get-up?

Fancy chuckling at some more celebs enjoying a trampy day?
18 October 2005 - A 'Housewives' Cabaret for Cancer
Source : ET Online

On the hit ABC show "Desperate Housewives," the residents of Wisteria Lane often find themselves at odds with one another. And Monday night was no exception as the cast got together for a staged "Housewives" catfight, but for a very worthy cause.

Series stars DOUG SAVANT, RICARDO CHAVIRA, BRENDA STRONG and FELICITY HUFFMAN, along with "Housewives" creator MARC CHERRY, gathered in Hollywood to participate in "Les Girls 5," a cabaret show to benefit the National Breast Cancer Coalition (NBCC). Even Marc got onstage and performed a song.

"He's not only a talented writer, he's a talented singer," says BRENDA STRONG, who does the voice-over for the series as the late Mary Alice. "He's outshining all of us.

The NBCC was formed in 1991 with the mission of eradicating breast cancer through action and advocacy. To learn more about the organization, go to www.natlbcc.org.
18 October 2005 - 'Housewives' Gang Fires Back at Critics
Source : Extra TV

Twenty-six million fans tuned in to "Desperate Housewives" last Sunday night, and the show's stars are giving season two big thumbs up. Yet, many TV critics are now slamming the show they once held on a pedestal.

So in the wake of the glaring headlines that claim "Desperate Housewives'" new plot twists are not juicy enough and there is no plotline tying all of the "Housewives" together, the show's creator Marc Cherry is going on the record with "Extra."

"We're trying some new things this year," Cherry said. "Some are working out real well, some, we're kind of going, 'Oh, I don't know about that.' They want us to be everything, every episode to be as exciting as the last one, and you know it's not quite how it works."

We caught up with Cherry and the show's stars Felicity Huffman and Ricardo Antonio Chavira in Hollywood Monday night at the Les Girls Five Charity Cabaret for breast cancer, where Chavira told us he believes too much pressure is being put on the show.

"It's funny, our ratings are better," he said. "But I keep on seeing things in the media about how we're in a sophomore slump."

Cherry and the cast, however, are hoping that Lynette's drunken striptease on the next episode will have "Housewives" fans buzzing. "I get completely naked," Huffman revealed.

And while it remains to be seen if the saucy scene will be enough to satisfy TV critics, there's no doubt the show's stars believe in every "Desperate" twist and turn. "I think it's better than it was last year," Teri Hatcher said.

Tune in Sunday to see if Huffman's striptease is the slump-buster that critics are waiting for.
18 October 2005 - 'Desperate' Creator Shrugs Off Critics
Source : Access Hollywood

The same TV critics that Bree of "Desperate Housewives" would have happily welcomed to a dinner party last year would now probably get one of those icy glares she reserves for her misbehaving son.

Viewers are still lapping up new episodes of the Sunday soap, but the first rumblings of a critical backlash have set in. That forced show creator Marc Cherry to insist he's just as involved in the show's preparations as he's always been.

"Yes, we're trying some new stuff," Cherry said. "Some of it might work. Some of it might not. This, of course, is the nature of episodic television. They can't all be gems."

But Cherry said he's pleased with how the season has started creatively and that he's doing his best to please his audience.

ABC's hit is second only to "CSI: Crime Scene Investigation" as television's most popular show this fall, although several critics have taken issue with how its second season has begun. Joanne Ostrow of The Denver Post said the hour is "edging toward vapidity."

"The tone is off," Ostrow wrote. "Not campy enough to make the comedy clever, not real enough to make it engaging as mystery-drama. The story is too rooted in convention to be truly outrageous, too melodramatic to make it plausible as anything but goofy comedy."

David Bianculli of the New York Daily News said the series doesn't have any traction. This season's new story line, with Alfre Woodard's new character, Betty, imprisoning someone in her basement "has not only wasted Woodard's talent, but our time as well," he wrote.

This season finds the series "clinging to old plots while fumbling with new ones," wrote Robert Bianco of USA Today.

"Perhaps it was too much to hope that the second season of `Housewives' would get off to the same kind of explosive start as the first," Bianco wrote. "But we do expect the series to do more than just mark time."

Both Bianco and Bianculli noted that Cherry had not written any of the season's first three episodes. Although it's likely Cherry made major contributions to the scripts, "that's not the same thing," Bianco wrote.

Cherry said that it's "patently untrue" that he's less involved in the writing.

"I am as involved in the writing process as I've ever been," he said. "I help come up with the story lines, I give notes and, indeed, I rewrite things constantly. I take the credit and the blame for everything that goes on the screen."

Touchstone Television announced last month that Cherry had signed on as co-executive producer of another series, "Kill/Switch," described as a murder-mystery with humor.

It's an old Hollywood story that people behind a successful project are suddenly in demand to do much more, and often find themselves pulled in different directions, said critic Aaron Barnhart, who runs the TV Barn Web site.

"It's probably awfully tempting to think of yourself as building an empire and wanting to develop several shows instead of being satisfied developing that one exquisitely good show," he said.

This season's first three "Desperate Housewives" episodes were seen by an average of 27.2 million people, above the 23.7 million average for all of last season. This year's average doesn't include the preliminary ratings for Sunday's episode, seen by 25.5 million people, according to Nielsen Media Research.

Fans are offering their own critiques on message boards. One fan posted on the Television Without Pity Web site that "I haven't been loving the new season thus far, but this (Sunday's episode) was good.'"

Bree's odd relationship with the town pharmacist was the topic of much Internet chatter. "What is wrong with Bree?" one fan asked. "The doyenne of all things seemly and mannerly and she is having her male friend for dinner already?"

Rest assured, Cherry said, "I'm paying attention to my audience's response and am trying my darndest to please them. And I will continue to do so as long as I've got that executive producer credit above my name."
17 October 2005 - Misleading Ladies
Source : Entertainment Weekly

Much as I appreciate the helpful summations that Mary Alice provides at the end of every episode of Desperate Housewives, the overarching themes that she finds sometimes make me wonder if she and I have been watching the same show. (Do they get TV in Dead Narrator Purgatory?) This week, Mary Alice somehow found in every subplot an example of good fathering.

(Speaking of unreliable narrators, your usual Desperate Housewives TV Watch commentator, Michael Slezak, is on vacation, but he'll be back in two weeks.)

According to Mary Alice's closing comments, dead Rex Van De Camp was a good father because his family misses him. (I miss Club MTV. Does that mean it was a good show?) Mike Delfino, who fathered Zach out of wedlock, is good because he's trying to find him now. (Let's see how that works out when he actually confronts the reality of having a child.) Carlos is good because he already loves his unborn baby. (Ditto.) And Tom is good because he makes Lynette feel like a good mother (when he briefly takes a break from passive-aggressively guilt-tripping her about working full time). We can assume that Betty Applewhite was missing in action this week because the producers couldn't figure out a way for her mysterious prisoner to demonstrate good parenting skills while wearing handcuffs.

The real overarching theme this week was basically the same as every week: how people are willing to deceive others for love, or at least a little affection. And each deceptive character provided a choice moment or two.

First, it was good to see Susan take some decisive steps to win Mike's undivided attention, first by revising the rules of their ''casual'' relationship (''no conditions — except neither of us is allowed to date anybody else''), then by withholding the information that she had found Zach (which would also help keep the creepy teen away from daughter Julie). Her guilt over the latter choice led to a rare meeting of the wives (props to the writers for realistically leaving working-mom Lynette out); I had almost forgotten that they live in the same neighborhood. Susan's unpredictable deceptiveness allowed us to enjoy the fully predictable moment when those sundaes wound up all over her white tank top.

Gabrielle's willingness to hire the slimy lawyer played by Adrian Pasdar (who hasn't lost a bit of sleaziness since the cancellation of his cult fave Profit) just to get a conjugal visit almost made us believe in the sexual attraction that's supposedly keeping her and husband Carlos together. Watching her previous lawyer take a beating during the brief prison riot was satisfying, even if did seem unlikely that guards distribute broom handles to inmates before recess.

Bree got double-team deceived in the quasi-Oedipal battle between son Andrew and suitor George. Just when we were wondering where Andrew's evil side had gone, he tormented George with dinner-table chat about the noise his mother makes when sexually satisfied, a squirm-inducing moment that led to a hilarious payoff when she made the same sound after taking a bite of cobbler. George's sneak counterattack, which sent Andrew back to troubled-teen camp, left me eager to see the next escalation in the war.

Finally, Lynette's desperate attempt to win back the affection of son Porter from his imaginary nanny, Mrs. Mulberry, led to two classic scenes. Anyone who has ever tried to provide a special moment for a child could tell you that Parker [thanks for the catch, readers!] would melt down before the mommy-and-me trip to the doughnut shop. And Felicity Huffman let you share Lynette's barely repressed joy when Mrs. Mulberry's umbrella got run over by the truck. Tom's unhelpful suggestion to call imaginary-nanny 911 only proved that, despite what Mary Alice may say, on Desperate Housewives, every day is Mother's Day.

What do you think? Which was the best and worst subplot? Which character is most likely to come back first: Zach, Andrew, or Mrs. Applewhite?
11 October 2005 - Critics Slice Up Desperate Housewives
Source : People

Complaining that the creators of last year's major ABC hit Desperate Housewives are "fumbling" and "clinging" to old plot threads, TV reviewers are loudly lamenting the lost freshness of the show in its still relatively new second season.

"The writers seem to be drawing some of the characters too broadly," squawks USA Today, upset that Gaby (Eva Longoria) is now "too selfish" and Susan (Teri Hatcher) "too stupid."

"The show still doesn't seem to have any traction," complains New York's Daily News in Tuesday's editions. "Even the twists aren't as twisted as they used to be." At fault, says the paper, is this season's "tone."

Perhaps the problem, suggests both papers, is that series creator Marc Cherry has yet to write any of this season's episodes. They also complain that there has been no subplot or even scenes in which the housewives are linked.

"In three weeks we've hardly seen the four stars together," USA Today notes, citing the fact that this past Sunday night they weren't together at all.

"Splitting up the four main housewives, and giving them nothing to do" has hindered the action, says the Daily News, which even goes so far as to issue an SOS – "before Housewives goes from stalled to stagnant."

Even so, Sunday night's episode – in which Bree (Marcia Cross) was fingered as a suspect in husband Rex's death and Lynette (Felicity Huffman) felt guilt pangs for returning to work – attracted 25.69 million viewers, according to Nielsen numbers. While that's lower than the ratings of the first two episodes of the season, the showing did help ABC win the night.
10 October 2005 - Tool Time
Source : Entertainment Weekly

Those Desperate Housewives writers sure do love to weave a theme, and this week's message was all about better living through technology. Whether it was Lynette employing the latest in online video conferencing, Bree taking a lie-detector test, or Gabrielle getting her hands on some discarded hedge clippers, the women advanced their causes, and their story arcs, with a little mechanical help. Even Betty, the newcomer on the block, got in on the fun, benefiting from that power tool her son — assuming Matthew is her son, of course — used to shore up the Applewhite Penitentiary.

That left only one major Wisteria Lane-r conspicuously absent from the electronics aisle, and if I were Teri Hatcher, I'd head there myself to invest in a laptop to write myself some decent lines. Yes, suddenly Susan is the least amusing, least sympathetic, and least interesting character on the show. And that's a shame, really.

I mean, remember all the fun we had with Susan last season? Watching her diving naked into the shrubs? Burning down Edie's house? Getting tossed on her face by a mechanical bull? Those are good times the writers seem to have forgotten, since they seem dead set on relegating Susan to either whining over her rocky relationship with Mike or souring her once irresistible relationship with her daughter. Watching poor Julie have to choose sides in Susan's battle with Edie was the episode's cringe-worthiest moment — a heckuva lot more uncomfortable than seeing Betty pistol-whip her prisoner or Lynette launch scalding coffee onto her boss's thighs.

And therein lies the heart of the matter. I love seeing a Desperate housewife behaving badly, as long as she's doing it in a novel and funny way. I said it last week, and I'll say it again: The writers need to pair Susan with, or pit her against, some unexpected playmates. How 'bout letting her take bereaved Bree out to lunch? Or having an old high-school flame track her down via e-mail? Anything would beat the tired, Mad Libs-ian insult routine she and Edie keep revisiting every week. Hatcher and, for that matter, Nicollette Sheridan deserve better.

It's not as if the show's writers aren't up to the task. Just look at the brilliant scenes they concocted this week for Felicity Huffman, who's clearly having a blast breathing such vivid life into Lynette's battle to juggle her kids and her resurging career — all under the evil eye of her family-unfriendly boss. I'm not sure what's more delightful: hearing Lynette offer brutal working-mom truths to her tots (''Mommy's boss is a mean, mean lady, and if I miss work, I'll lose my job, and then we won't have any money to buy food'') or watching her barely concealed hatred of Nina bubble to the surface (''I'm sorry about your hair. I can see why you're upset'').

Yet as funny as Lynette's dialogue was this week, nothing made me laugh harder than seeing her bang her fists on the conference-room table in an effort to surreptitiously send that mug of coffee over the edge. You gotta love Lynette: While her primary goal may have been to cut the meeting short and finish teleconferencing herself to her son's first day at kindergarten, it wasn't as if she didn't enjoy the bonus of punishing the mean, mean lady in the process.

Anyhow, who can fault Lynette for inflicting a couple of third-degree burns when Betty is passing off the blood on her blouse as cherry-pie filling? Sure, I saw last week's previews, so I knew Betty and Matthew's captive was going to attempt a prison break out of the basement, but when it all went down — in a sudden, shocking flourish of violence — it provided a moment of genuine menace in the typically consequence-free Housewives universe. The shot of Betty wiping a pool of platelets off the floor with her green kitchen sponge was like a perverse advertisement for a new household cleaner: fresh and deeply disconcerting.

With Lynette and Betty hoarding the episode's respective comedy and drama bits, Bree's plot line took a rare back seat, although clearly the show's costume designers continue to put the Widow Van De Kamp front and center. I know Bree's in mourning, but who knew she had more black couture in her closet than the average Manhattan hipster? That conservative silk blouse with massive black bow she wore to her police interrogation was particularly rich, both an homage to and a parody of the kind of fashions you'd spot on the femme fatale in your typical '50s noir thriller. Sure, the whole story was over-the-top — from the kids sitting in on the lie-detector test to Bree's announcement that ''the police dug up your father today'' — but all in good campy fun. And the Van De Kamp camp should be back in fine fettle next week, what with sociopath George in the clear (for now) and the dead weight of Shirley Knight as mother-in-law Phyllis packed up in a yellow cab.

Unfortunately, it looks like Harriet Sansom Harris's Mrs. Tilman is heading for the airport, too. The show's most underrated actress delivers every line as if she were teaching a comedy master class. And her wicked performance seems to inspire the writers to new heights, for instance: ''Funny thing, since he beat me and threw me down the stairs, we just don't stay in touch like we should.'' Let's hope Mrs. Tilman doesn't stay away too long. Wisteria Lane could certainly benefit from her menacing/nurturing vibe, and her penchant for snooping on the neighbors, especially with Betty and Bree's mysteries both in need of some clearing up.

As for this week's other puzzle — was Gabrielle's apology the real deal? — I'll leave that to you, TV Watch-ers. I know from your comments that you watch every scene with the same kind of unnatural zeal that I do, so let's hear your thoughts: Do you prefer the Gabrielle who slumps down in her new Aston Martin to stalk her teen ex-lover? Or the woman who tearfully asks for her husband's forgiveness for cheating on him? And who's better for her: The guy in jail, or the one young enough to get her sent to jail?
7 October 2005 - "Housewives" Gets Lost in Translation
Source : EOnline

Ay, ay, ay!

Gotta hand it to those Desperate Housewives--they deliver great drama both onscreen and off.

Fans in both Los Angeles and Canada were left desperate themselves Sunday night after two separate technical glitches interrupted the show's broadcast.

Nearly 200,000 Southern California viewers found themselves muy confused last week when a local cable operator accidentally aired the first 50 minutes of the show in Spanish.

Adelphia Commmunicatons felt the wrath and complaints of wannabe Wisteria Lane residents after an equipment mishap picked up the Spanish-language simulcast of the episode.

The cable company quickly placed blame elsewhere, namely on damage caused to equipment from the nearby wildfires raging in the region. Adelphia says it was forced to reroute its cable signal to a different location, which caused the soundtrack snafu.

Unfortunately for viewers of quality television, the Desperate Housewives glitch wasn't the only problem for the cable company. The provider was also forced to repeat last week's Lost Monday night after a power outage last Wednesday left hatch-crazy fans in the dark.

As for Desperate viewers to the north, there was no need to be bilingual, but some psychic ability wouldn't have hurt.

In the last half of the show, Canada's CTV reportedly aired several scenes multiple times and dropped other scenes from its broadcast entirely.

Both stations have promised to re-air the episodes, glitch-free.
7 October 2005 - 'Desperate' druggist compares stage, TV
Source : Journal Gazette

What began as a guest-starring role as Bree's pharmacist George Williams for three episodes on ABC's top-rated series, "Desperate Housewives," has turned into a regular gig for 43-year-old actor Roger Bart.

"All I can say is that I'm still here," muses Bart, who adds new meaning to the word "creepy" as the Cheshire Cat-grinning George, who is so obsessed with Bree (Marcia Cross) that he causes the death of her husband, Rex, by exchanging his heart medicine for something a bit more toxic.

The series' creator-executive producer, Marc Cherry, had seen Bart in his Tony Award-winning role as Snoopy in "You're a Good Man, Charlie Brown," as the snippy assistant Carmen Ghia in "The Producers" and as an acerbic gay "housewife" in the film comedy "The Stepford Wives."

He'll be seen this Christmas opposite original cast members Nathan Lane, Matthew Broderick and Gary Beach in the film version of "The Producers."

Question. Has it been a difficult transition going from Broadway to the rigor of doing an hour-long TV series?

Answer. We did 16 hours one day this week, and the following day we did about 11 hours. It is so different. Once you kind of adjust, Broadway is this great little structure. There's something sort of taxing and tedious about it, and something sort of wonderful.

Yet the kind of part I have on television, right now I work seven or eight days a month. It is wonderful because I can spend a lot of time in New York with my 4 1/2 -year-old daughter, Eller.

Q. I would imagine that as soon as you'd been on your first episode of "Desperate Housewives," people began recognizing you.

A. There was an exponential change. I think nobody is afraid of me because it's creepy George – fortunately that doesn't take place. In New York, I get a lot of "Did we date? Did we go to high school?" Marc Cherry has written and conceptualized a unique villain. ... He is definitely not your usual nasty bloke.

Q. But he is scary.

A. And sensitive. He is the guy who is just your neighborhood druggist who greets you with a smile, and little do you know underneath he's angry. I think he's been wounded over time and he's very, very angry.

I think that George loves Bree. He thinks, "Gosh, I love her, and she's made me so mad at times, but I want to do everything I can to have her and protect her. But I expect more from Bree, considering how much I have put out."

Q. Since "Desperate Housewives" is set in its own universe –

A. We call it uber-reality.

Q. – Is it a challenge to get the tone right without being too over-the-top?

A. Working with Marcia Cross (helps). She is able to manage those things so beautifully, between making the absurd very truthful and funny, and at the same time she can be profoundly moving. I had a great training ground in the theater because the shows I do, so many of them have been musicals, and it is important to make that segue into song almost imperceptible and graceful. … This world is similar in that way – you have to be completely honest.
6 October 2005 - Cross Reveals a Life of Incapacitating Migraines
Source : Extra TV

Sexy "Desperate Housewife" Marcia Cross is opening up for the first time about her secret struggle, revealing that she's battled debilitating migraines since she was 14.

People magazine's Senior Editor Jamie Bufalino said the headaches were so severe, they caused Cross's vision to blur. One attack even sent the actress to the emergency room.

And while her TV character struggled with a cheating husband, Cross told People the migraines took a toll on her real love life as well.

"She said it was kind of like having a stroke," Bufalino revealed. "It kind of distanced her from people in the past. It kind of affected her relationships."

Now, happily engaged to investment banker Tom Mahoney, Cross has learned how to control the painful headaches with medicine and by avoiding certain foods, such as oranges, red wine and chocolate.

Cross said she hasn't had any migraines on the set of her mega-hit show, which this week finds a Wisteria Lane neighbor making a jailhouse confession. It seems that tensions mount when Gabrielle reopens old wounds about her affair during a visit with her husband, Carlos.

Catch a new episode of "Desperate Housewives" Sunday night on ABC, and read more about Marcia's migraines in People, which hits newsstands Friday.
1st October 2005 - Woodard settling into housewife life on Wisteria Lane
Source : The Miami Herald

If you want to know why actresses on hit shows tend to waste away, one reason is that no one leaves them alone long enough to finish eating.

That was the plight of Alfre Woodard, the latest of ABC's Desperate Housewives, at a network party this summer.

Her costars, surrounded by thickets of reporters, couldn't have snagged a passing crab cake if their lives depended on it, but Woodard, who'd found herself a seat in a slightly less loud corner of the West Hollywood club ABC had taken over that night, had at least hoped to take a stab at dinner, only to be stopped repeatedly as she patiently fielded questions about Betty Applewhite, the newest resident of Wisteria Lane.

Who, according to Woodard, is a former concert pianist with a handsome son (Mehcad Brooks), an apparently absent husband and a ''jaw-dropper'' of a secret.

Of course.

Woodard should probably stock up on vitamins and protein bars.

Because joining a certified media phenomenon like Desperate Housewives, which last season ranked just behind CBS' CSI and Fox's American Idol and returned to great expectations last Sunday, is one of those experiences that tend to leave actors a little breathless (and sometimes foodless).

Even if, like Woodard, they already have four Emmys -- enough to share with Teri Hatcher and Marcia Cross, who both lost to costar Felicity Huffman at this year's Emmys -- and a body of work that speaks for itself.

Not that Woodard, who'll also appear for a few episodes of NBC's Friday-night series Inconceivable, wants to be pigeonholed as the star of Miss Evers Boys or The Member of the Wedding.

When Housewives creator Marc Cherry came calling, looking to add her to his collection of Wisteria Lane women, Woodard confessed that she hadn't seen the show.

But like Huffman, who earlier in the evening had complained of having said ''Brush your teeth!'' a ''gazillion times'' in her real life, Woodard knows from desperate housewives, or at least the occasional desperation of motherhood.

''Just because I really am a housewife and a mom, I don't get to watch television,'' said Woodard, who, like Huffman, has two children.

''Literally, you know. When your children are in school, and then they do all that stuff at the end of school, and you get home with them at 6:30, they've got homework, you feed them, you do their homework with them, then you have one hour to yourself from 10:30 to 11:30, you go to sleep after that, you've got to get up for work in the morning,'' she said.

''I don't get to watch anything . . . So I got told [about Desperate Housewives ] by all my relatives, my nieces and nephews who're between 25 and 40 . . . They all swear by it, and they watch it with friends every week. So I knew it had a grip on people that I thought were smart and interesting and funny, so that made me curious when Marc called,'' Woodard said.

'He gave me tons of DVDs so I fast-forwarded and I caught up and I called him back and said, `OK, I'm game,' '' she said.

Some may read cultural significance into an African-American family moving on to America's most famous suburban street, but Woodard's not going there.

Asked if Betty, her character, would feel that she was moving into an all-white community, she said, ``No more than I live in all-white Santa Monica. I mean, I live in a dominant culture.''

After noting that the neighborhood already has a Latino family, she added, ``Wisteria Lane is a parallel universe. I don't think people should look for politics in Wisteria Lane.

``I don't think on Wisteria Lane, race is an issue for anybody. They haven't mentioned it. I think there's too much dysfunction to even get to race.''
1st October 2005 - The whole neighborhood is watching 'Desperate Housewives'
Source : Courier Journal

Sometimes new shows bolt from the starting gate in their freshman year but run out of breath in their sophomore season.

Not "Desperate Housewives."

The ABC runaway hit of last fall is leaving everybody else in its dust again on Sundays. More than 28 million tuned in last Sunday's debut, more than doubling the number of viewers that its nearest competitor, "Law & Order: Criminal Intent," had at 9 p.m.

That's 7 million more than last September's premiere and second only to the 30 million that watched last May's finale.

If it could maintain that torrid ratings pace, "Housewives" might challenge Fox's "American Idol" for the most-watched series of the year. "Idol" averaged 27 million last season. Still, "CSI" nosed out "Housewives" last week by less than a million viewers for the No. 1 spot.

What's the big attraction for "Housewives"?

Many TV critics compared the suburban series to "Dallas," "Dynasty" and "Falcon Crest," but producer Marc Cherry told The New York Times that "Housewives" is in a class by itself, and he's right. However outlandish those other shows may have appeared to some viewers, they were taken dead seriously by most of their fans. Nobody takes "Housewives" seriously.

Even if you're not a faithful fan, consider what the characters have been through on the show. For openers, the story is narrated from the grave.

Then there's a husband who strangled a neighbor for being too nosy, and his wife, who accidentally killed her son's drug-addicted birth mother, who was stuffed in a toy box and buried under the family pool. And that's just skimming part of the plot line.

It makes Bobby Ewing stepping out of the shower and back from the dead on "Dallas" look believable. Everything on "Housewives" is outrageous -- outrageously funny and satirical.

It's the ultimate spoof on suburban America, which is part of the reason it's a hit. Cherry says those other prime-time soaps were about backstabbing rich people. "Housewives" mimics America's middle class.

How will Cherry keep it fresh in its second year? By sending the characters in new directions. Lynette, played by Emmy-winner Felicity Huffman, is out the door and off to work in a role-reversal storyline that will leave her partner a desperate husband.

Of course, there will still be some good old-fashioned promiscuity, adultery and probably a killing or two to keep the ball rolling in familiar ways. The hunky plumber and hormone-driven gardener will do their part.

Cherry says he'll be looking for more wicked things the women can do to keep things from getting dull. Some feminists wonder if it isn't a case of a man taking it out on women, but Cherry told The New York Times he thinks he can relate to women better because he's gay.

He wrote nearly all the scripts last season working 12-hour days, seven days a week. This season he's stepping back and supervising 11 staff writers, who will carry the load. One of them is a female "Saturday Night Live" staffer, which tells you that the show will stay on course.

As bizarre as the show is, some observers wonder how much further Cherry might have been able to stretch "Housewives" if it had been on HBO. But Cherry said the current craziness is about as far as he would go. "I think people mainly would smoke more," he said, if the show were on cable.
© Copyright Desperate Housewives Fan Site
Photos and videos are property of
ABC
2004-2006